Circle of Iron
(1979)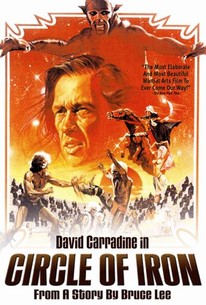 Movie Info
This symbol-laden drama explores the inner mythology of martial arts practice and is based on a Bruce Lee story idea. The original screenplay was written by Bruce Lee, with help from actor James Coburn and screenwriter Stirling Silliphant. Lee was to take on the four-in-one role of guide in his film, leaving the hero's role to someone else. Following Bruce Lee's tragic death, the film was rewritten. David Carradine stepped in to play the mysterious guides to aspiring martial arts master Cord (Jeff Cooper). Cord lives in a desert-like world where nearly everyone he meets practices or has practised a martial art. He seeks to find the place where the true inner spirit of the martial arts is being taught. In a story which is imbued with Zen maxims and Asian philosophy, when Cord finally arrives, he finds less (and more) than he hoped for. While there are many combat and fight scenes, the general tone of the film is meditative. Cameo appearances by Roddy McDowall, Eli Wallach, and Christopher Lee supply many of the film's highlights.
Rating:
R
Genre:
,
Directed By:
Written By:
In Theaters:
On DVD:
Runtime:
Studio:
Critic Reviews for Circle of Iron
Audience Reviews for Circle of Iron
½
Slightly terrible martial arts film that drowns in too much philosophical mumbo jumbo and not enough action and poor performances by it's lead actor, although David Carradine (in four roles none the less) tries valiantly to save the film but it's script is so horrible, that isn't possible.
Arthur Pinkham
½
If a man guards a book year after year, what is more important, the man or the book? Cord enters a fight tournament hoping to be selected as the savior of civilization; and despite winning the tournament, Cord is not sent to obtain a sacred book believed to have the power to save the world from destruction. Cord decides to set out on his own mission to obtain the book without the support of his villagers. He will seek the aid of several locals he encounters on his journey. "Tie two birds together and despite having four wings they cannot fly." Richard Moore delivers Circle of Iron in his lone directorial project (he also worked on the 1982 Annie film). The storyline for this picture was interesting and co-written by Bruce Lee and James Coburn. The settings were brilliant and well delivered and the action sequences were okay but not great. The acting was about average and the cast includes Christopher Lee, David Carradine, Eli Wallach, Roddy McDowall, and Anthony De Longis. "My skills are not there to impress you." The cast of this film grabbed my attention and made me have to sit down and watch this picture. I can tell you the casting director did not do the film justice by selecting Jeff Cooper to play the main character. This film lacked the pizzazz and style of such films as Beast Master, Willow, or the Conan pictures that presented similar content and settings. Overall, this is an average movie that may be worth viewing once if you are a fan of David Carradine or the genre. "If you won't melt it off, cut it off!" Grade: C
Kevin Robbins
½
One of the most bizarre, silly and amazing kung-fu movies. Much like with Enter The Dragon, this is another influence of Mortal Kombat. To say that Bruce Lee would have been better in David Carradine's role(s) is a completely crazy. Carradine is less about the actual skill and more about creating a character and is certainly a better actor. Some of the actions in this movie are downright disturbing, the character of Cord is always laughing and running around like a complete madman. However, this is a must see movie that should be viewed in the context of when it came out.
Conner Rainwater
Super Reviewer
Circle of Iron Quotes
There are no approved quotes yet for this movie.
Discussion Forum
Discuss Circle of Iron on our Movie forum!