Circo
(2011)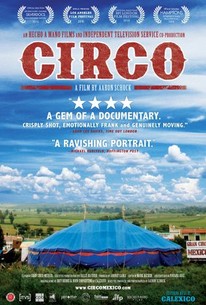 Movie Info
Aaron Schock's acclaimed film, which has appeared at many world festivals and is the most recent winner of the Jury Award at the Hampton's International Film Festival, is one of the most compelling documentaries seen in years. Set in the cinematically rich milieu of a century-old traveling circus in rural Mexico, CIRCO follows the family-run "Circo Mexico" as they struggle to stay together despite mounting debt, dwindling audiences, and a simmering family conflict. The hardscrabble founders, the Ponce family, have lived and performed on the back roads of Mexico since the 19th century. Tino, the ringmaster, is driven by his dream to lead his parents' circus to greater success. He corrals the energy of his whole family, including his parents, his brother and his four young children, towards this singular goal. But his wife Ivonne is determined to make a change. Feeling exploited by her in-laws, she longs to return her kids to a childhood lost to laboring in the circus. Through an intricately woven story of a marriage in trouble and of a century-old family tradition that hangs in the balance, CIRCO asks: To whom and to what should we ultimately owe our allegiances? Gorgeously filmed along the back roads of rural Mexico, CIRCO is a road movie that opens the viewer to the luminous world of a traveling circus while examining the universal themes of family bonds, filial responsibility, and the weight of cultural inheritance. --(c)First Run Features
News & Interviews for Circo
Audience Reviews for Circo
Two circus movies in a row! What's next? A revival of BERSERK starring Joan Crawford? Anyhow, this one is world's apart from WATER FOR ELEPHANTS. This beautifully filmed yet dramatically hesitant documentary about a family struggling to run their traveling circus through the small towns of Mexico plays more like a melancholy tone poem. We are so used to DRAMA DRAMA DRAMA in our documentaries anymore, that it's easy to criticize this film for leaving a lot of it offscreen. Instead, we just watch as 3 generations of a family sacrifice education, running water, and all luxurious amenities to keep their business alive. There's a warmth at play here, especially in the vibrant colors and stunning photography, but I was left with some indelibly heartbreaking images, such as a little girl crying as she is forced by her grandparents to keep practicing backflips oryoung kids erecting the circus tents day in and day out. I was left with many questions. Too many in fact. What are the child labor laws like in Mexico? How many people actually work at this circus? Is it just the family? Because we pretty much see them doing everything, but it just seems so impossible. Have the kids ever been injured by the animals? And the story does get repetitive, which is somewhat the point. Regardless, there's something really moving in this brief (75 min.) film about a lost culture struggling to continue its legacy.
Glenn Gaylord
Super Reviewer
Circo Quotes
There are no approved quotes yet for this movie.
Discussion Forum
Discuss Circo on our Movie forum!