Cirkus Columbia
(2012)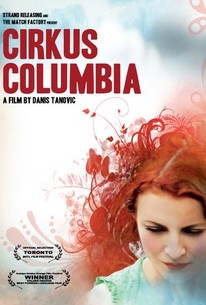 Movie Info
Following the fall of the communist regime in Bosnia-Herzegovina in 1991, Divko Buntic (Miki Manojlovic) returns to his former home after a 20-year exile in Germany. Returning with an attractive young girlfriend, a flashy new Mercedes, a pocketful of cash, and a lucky black cat, things are looking good for Divko. When his cat goes missing things begin to fall apart: trouble with his girlfriend and the fledgling relationship with his estranged son are strained as the entire town scrambles to find the cat and collect the cash reward being offered. Divko's personal tumult mirrors the country's situation at large with signs appearing that the Bosnian War is coming. As the war looms, tensions run high and Divko must decide whether to stay in his newly reestablished home or retreat. -- (C) Strand
Critic Reviews for Cirkus Columbia
Audience Reviews for Cirkus Columbia
A remarkable film with three-dimensional characters who become always more complex as the story progresses, as they face the menace of an imminent war that would plunge their land into so much pain and suffering in the following years - and to know this makes the final scene so touching and bittersweet.
Carlos Magalhães
Super Reviewer
Going into Cirkus Columbia I only knew two things about it, it was based on a novel and that it's a Bosnia drama. I got to say for my first Bosnia movie this was pretty good. Cirkus Columbia is a story set in the former Yugoslavia and centered on a guy who returns to Herzegovina from Germany with plenty of cash and hopes for a good new life. Cirkus Columbia has good writing, but it could have been better. Now I did get into the story and even though I didn't care much about the political aspect of the plot it did add to the drama. I also found each character to be likable in there own way and being being three dimensional which is best the part about the writing. The story flows smoothly and no scene ever feels out of place. Now the writing could have been better like I said earlier. Some of the more important scenes that were meant to be powerful didn't leave much of an impression. The same could said about the ending, while I found it to be a fitting to the story some won't be as satisfy with it. Though it could have been better, it's still a good drama. I'll admit that the cast themselves wasn't what I expected, but you could tell they got a lot by smoothly they made time pass by. I'm not sure about everybody else, but actor Miki Manojlovic reminds of Robert De Niro for some reason. Maybe it's because they look alike or simply Miki Manojlovic is just that good of an actor. Even though I haven't been to Bosnia it location works well for the story. I can't imagine this movie taking place in anywhere else. Cirkus Columbia might not have to look at, but hard work was into this and that's ultimately counts. Cirkus Columbia is a gripping Bosnia drama with three dimensional characters that make it worth a watch. Even though this movie is not great, it definitely deserves more attention.
Caesar Mendez
Super Reviewer
This is officially a Bosnian drama but, like everything else on the Balkan, it has some of the best actors from Croatia and Serbia in it (and it was co-produced by dozen of European countries)... Miki Manojlović, Mira Furlan, Boris Ler and Jelena Stupljanin are the stars of this movie set in the Herzegovina part of Bosnia and Herzegovina in the early 1990s where big changes were occurring. After the destruction of the Socialist Federative Republic of Yugoslavia, in the risky times, a man comes back to his hometown after many years abroad and deals with his past and current family, using the political dealings of the region as a backdrop. This well researched and developed film, full with hidden nostalgia, will be a real delight to watch for people who lived in the old Yugoslavia and enjoyed a comfortable and secure life... while others, who took over and didn't built anything better will probably criticise this work of the talented Danis Tanovic as too kind to the old country, forgetting that the screenplay is based on the novel Cirkus Columbia by well known Bosnian Croat writer Ivica Đikić. The film was selected as the Bosnian entry for the Best Foreign Language Film at the 83rd Academy Awards, but did not make the final shortlist. It is not a master piece as the previous No Man's Land from Tanovic but is still high quality film which should keep you in suspense... until the very powerful ending closes with appropriately chosen song by Jadranka Stojakovic - one of the big hits from the 90's in Yugoslavia.
Cirkus Columbia Quotes
There are no approved quotes yet for this movie.