Citizen Cohn
(1992)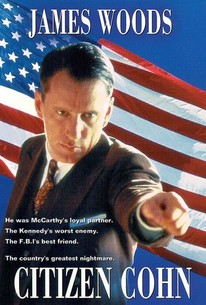 AUDIENCE SCORE
Critic Consensus: No consensus yet.
Movie Info
Made-for-cable television and based on a fascinating best-seller from Nicholas von Hoffman, Citizen Cohn offers a provocative look at a deeply disturbing figure in American history, Roy Cohn, an ambitious attorney who played a crucial role in the promotion and enactment of Senator Joe McCarthy's devastating witch hunts of the late '40s through the late '50s in which the government persecuted and destroyed the lives of people suspected of having un-American attitudes, behavior patterns or affiliations. The once powerful Cohn is seen reliving scenes from his life while lying deliriously in a hospital bed waiting to succumb to AIDS.
Rating:
R
Genre:
Directed By:
Written By:
In Theaters:
On DVD:
Runtime:
Studio:
HBO Video
Critic Reviews for Citizen Cohn
There are no critic reviews yet for Citizen Cohn. Keep checking Rotten Tomatoes for updates!
Audience Reviews for Citizen Cohn
½
Some imbecile over on IMDB is going on about how McCarthyism bears no relation to the Salem witch trials, because everyone knows there were no witches. Actually, it bears a closer relation than most people realize--there was, in Salem, a very small number of people dabbling in witchcraft (far fewer than the number of those prosecuted for it), but the trials were probably based on spite and economic advantage. However, no one was actually in danger from those who dabbled. It's a common motif to have Roy Cohn haunted by Ethel Rosenberg on his deathbed. It's an intriguing mental image, certainly. Roy Cohn would assuredly have known that, even if Ethel Rosenberg was a spy (she probably wasn't), anything she could have done was substantially less than was done by people who weren't executed. The Rosenbergs simply didn't have access to much in the way of nuclear secrets. If Roy Cohn had a conscience, which is a questionable idea at best, one can imagine him being tormented by it just before he died. In fact, I don't know if Roy Cohn suffered from the level of AIDS dementia implied in this movie. I don't think anyone who can know would say. I know that, to the day he died, Roy Cohn claimed to have liver cancer even as he pulled strings to get AZT. I know that he was disbarred on his deathbed--and that he thoroughly deserved it. (He was disbarred for misappropriation of clients' funds, lying on a bar application, and pressuring a client--who was on his own deathbed at the time--to change his will.) James Woods is a very talented man, excelling in playing horrible, horrible men. He often plays real-life men, usually killers or other unsavoury types. (More on this when we finally get to [i]Ghosts of Mississippi[/i], I should think.) He knows, obviously, that he has a gift for playing these types, and he can even, sometimes, make them likable, when that's what's called for. There are glimmers of this in his Roy Cohn. You even have some sympathy for him as he lies, dying and mad, in a New York hospital. Roy Cohn was a horrible, horrible man, and this is a fascinating portrayal of him. I'm also delighted by the casting of Joe Don Baker as Joseph McCarthy. Still, he's not as over the top as the guy who played McCarthy in [i]Good Night and Good Luck[/i].
Edith Nelson
Citizen Cohn Quotes
There are no approved quotes yet for this movie.