Citizen Verdict
(2005)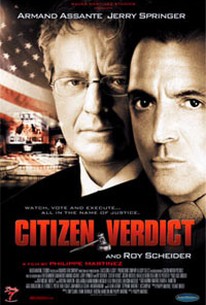 AUDIENCE SCORE
Critic Consensus: No consensus yet.
Citizen Verdict Photos
Movie Info
Justice is turned into a game show, with life and death as the stakes, in this satirical drama. Florida governor Bull Tyler (Roy Scheider) is trying to ease the dissatisfaction of his constituents in the midst of a major crime wave by getting tough on wrongdoers, and television producer Marty Rockman (Jerry Springer) has offered him a high-profile way to do just that. Rockman, best known for his splashy reality programs, has come up with an idea for a new show -- "Citizen Verdict," in which an alleged murderer is tried in three hours on broadcast television, with the viewers voting on the guilt or innocence of the accused. If 75 percent or more of those who call in vote to convict, the defendant will be executed as part of a pay-per-view special to follow. Tyler thinks the show could be a good publicity stunt and gives his OK, with Ricky Carr (Raffaello Degruttola), accused of murdering the host of a popular cooking show, given the honor of starring in the first episode. Carr is being defended by Sam Patterson (Armand Assante), a once-respected civil rights lawyer fallen on hard times, while prosecutor Jessica Landers (Justine Mitchell) represents the state. Citizen Verdict was the first directorial project from producer Philippe Martinez.
Rating:
R (for language, sexual content and violence.)
Genre:
,
Directed By:
Written By:
In Theaters:
On DVD:
Runtime:
Studio:
Watch it now
Cast
Critic Reviews for Citizen Verdict
Audience Reviews for Citizen Verdict
½
Well acted with an intriguing concept, but poorly directed and edited with only a mediocre script at best. There are a LOT of unnecessary filler scenes and characters that were left in.
Barbara C
This film just doesn't work. I am sure it was intended to be a more biting satire on reality television than it turned out. It comes off as more ludicrous than anything. The very od casting sparks some interest however.
James Higgins
½
"The People's Court" meets "American Idol" with a bit of "Survivor thrown in, with the new reality TV show from Marty Rockman (Springer): A real murder trail will be tried by a prosecutor (Mitchell) and defense attorney (Assante), and if the defendant (Degruttola) is found guilty by a vote of the millions of viewers watching, the governor of Florida (Scheider) will witness the execution. But can the justice truly be served through a medium where everything is stage managed and fame and fortune is the end goal of all invovled? If one can suspend disbelief to accept that a capital case could at any time in the near future be tried by popular vote on TV--and you have to suspend your disbelief, because this film is askingto be taken very seriously--"Citizen Vertict" could have been an excellent film, no matter where you fall on the issue of the death penalty. I say "could have been excellent," because setting aside the fact that even the film's basic premise is completely implausible in a world that appears to be no further away than the day after tomorrow--we're talking about a country where proud terrorists aren't convicted, and lawyers talk about how OJ Simpson was set up, despite the fact he admits to committing robbery--"Citizen Verdict" is simply too sloppily made to be truly entertaining. The story is full of holes and stray elements that are left unexplored or undeveloped, the motivations of most of the main characters remain vague even at the end, and not enough thought was put into costume design and story continuity. It's that last bit that really ruins the film. There is some very nice and stylistic cinematography that switches back and forth between what we are "seeing" on TV and what the all-seeing eye of the movie camera is catching, but the setup is ruined by "citizen reactions" that supposedly show the changing outlook of people over time... but they're always wearing the same clothes. I can see interviews happening at the exact same spot, but would the subjects truly be dressed the same? If the director had paid more atteniton to the little things, and if the script had gone through another draft or two, this could have been a good movie. The cast does an excellent job and the film is very neat sylistically, but it's just a little too sloppily put together to rate any higher than the bottom end of average. It's worth seeing, but it's not worth going out of your way for. Citizen Verdict Starring: Armand Assante, Raffaello Degruttola, Jerry Springer, Justine Mitchell, and Roy Scheider Director: Philippe Martinez
Steve Miller
Discussion Forum
Discuss Citizen Verdict on our Movie forum!
News & Features