Citizen X
(1995)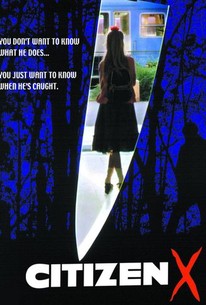 Movie Info
Stephen Rea stars as a relentless Russian investigator in this made-for-cable thriller. Based on an actual case, this taut film tells the story of Burakov (Rea), a Russian forensic pathologist assigned to track down a brutal serial killer who is targeting young drifters. The nature of the assignment takes its toll on Burakov's personal life, as he tracks the killer for years despite the red-tape and bureaucracy of the Soviet state. Nominated for several awards overall that year, Donald Sutherland won an Emmy and a Golden Globe Award for his co-starring role as Rea's supportive superior, Fetisov. The movie was filmed in Hungary.
Critic Reviews for Citizen X
All Critics (7) | Fresh (6) | Rotten (1) | DVD (1)
One of the best serial killer movie i have seen
April 3, 2006 | Rating: 3.5/4
Fascinating and absorbing. One of HBO's finest made-for-cable flicks.
July 25, 2002 | Rating: 5/5
Audience Reviews for Citizen X
½
Interesting bit of history. Steven Rea does a good job. Donald Southerland could have passed on this role.
Christian C
Super Reviewer
½
This serial-killer TV film by HBO is an incredible piece of work. It has almost all the required elements of its genre in adequate proportion. Although it takes a limited number of cinematic liberties, it's done only to heighten the effect, and it works big time. The brilliantly outstanding performance by Stephen Rea is one of the best performances I've ever come through. His portrayal of his character Burakov is very realistic. He literally feels life into his character. Donald Sutherland could have done better, IMHO. All in all, it's a great movie based on real events, and any fan of this genre shouldn't miss it.
familiar stranger
Super Reviewer
well done hbo film based on the case of ukrainian serial killer andrei chikatilo, convicted of killing 52 women and children. good cast including donald sutherland and max von sydow. stephen rea plays the investigator who followed the case for seven years despite much interference from soviet bureaucracy. patchy russian accents but very factual
Stella Dallas
Super Reviewer