City Hunter (Sing si lip yan)
(1993)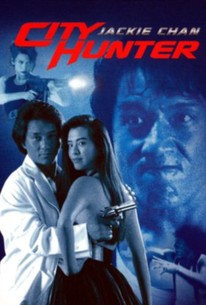 City Hunter (Sing si lip yan) Videos
City Hunter (Sing si lip yan) Photos
Movie Info
In this film, Ryu Saeba, a womanizing private detective, is hired to find the runaway daughter of a wealthy businessman. Ryu's search leads him to a cruise ship. However, the ocean liner is hijacked, leaving Ryu to contend with the hostage takers as well as the elusive daughter.
Critic Reviews for City Hunter (Sing si lip yan)
Audience Reviews for City Hunter (Sing si lip yan)
½
Okay, so right off the bat, I'm unfamiliar with the source material on which this film is based, so I'm sure a lot of the homages or whatever went over my head, leaving me with some broad humor and Chan playing a 'womanizing' detective, except we never see him do anything except pant around after women, which I find to be something of a misnomer, since to me 'womanizing' implies that he actually GETS a lot of tail, not just day-dreams about it. It's got some decent action bits, but left me sorta cold overall.
Bill Bryant
Very entertaining and lots of funny as the plot is similar to Under Siege. Jackie Chan was perfectly cast as Ryu Saeda, the lecherous and lethal adpated on the Manga / Anime in this live-action film. Despite all this City Hunter still manages to be crammed with action scenes, except of course in this film rather than simply staging a fight in a cinema we have Chan taking guidance from an on-screen Bruce Lee! A Street Fighter sequence where the characters morph in to various game combatants has to be seen to be believed and the end showdown between Chan and Richard Norton, although not one of his best in terms of martial arts technique, is easily his funniest. Add some great characters and for the male viewers, some gorgeous Hong Kong 'babes', and you have 90 minutes of sheer, non-stop FUN!
Dean McKenna
Super Reviewer
Cheesy camp, no surprise coming from Jing Wong, Hong Kong's indisputable king of hackness. That said, this is just a big sack of dumb but fun moments. You just can't say no to a movie with Jackie Chan dressed as Chun Li from Street Fighter. Jackie might consider this his worst film (well, maybe the Rush Hour films these days) but when you're seeing the man getting hit by a gun in the face, it's humanly imposible not to laugh. Seriously, Jackie was genetically made for comedy.
Tsubaki Sanjuro
Super Reviewer
City Hunter (Sing si lip yan) Quotes
There are no approved quotes yet for this movie.
Discussion Forum
Discuss City Hunter (Sing si lip yan) on our Movie forum!