City Under Siege (Chun sing gai bei)
(2010)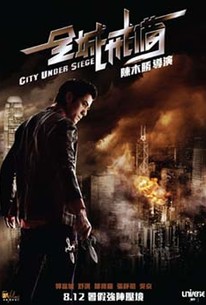 AUDIENCE SCORE
Critic Consensus: No consensus yet.
City Under Siege (Chun sing gai bei) Videos
City Under Siege (Chun sing gai bei) Photos
Movie Info
When circus clown Sunny gets transformed into a super-powered mutant, he finds himself pitted against his fellow circus performers who were altered in the same freak accident, and who are now using their powers to wreck havoc around the city.
Rating:
NR
Genre:
, , ,
Directed By:
Written By:
In Theaters:
On DVD:
Runtime:
Studio:
Critic Reviews for City Under Siege (Chun sing gai bei)
There are no critic reviews yet for City Under Siege (Chun sing gai bei). Keep checking Rotten Tomatoes for updates!
Audience Reviews for City Under Siege (Chun sing gai bei)
I noticed 'Funimation' in the early credits, and sure enough, some of the voices used for dubbing are veterans from anime titles, North American dubbed versions. One line summary: Fairly good as action-comedy; Funimation did not do well on the dub. ------------------------------------------------------------------------------------------ The film opens in a Japanese prison camp in Maylaysia, 1945. The Japanese experiment with chemistry to artificially produce a super soldier class so as to turn the tide in World War II. This fails and the bad stuff seems to be lost. In the present, Sunny is a buffoon in a traveling circus troupe, the Thundering Daggers. He fails at knife throwing, and does better as a clown. One night he goes with fellow troupe members to check whether a small group has found some gold. Sunny's fellow circus members knock out the gold hunters. Sunny falls down in the middle of the fight. When he gets his bearings, they recruit him for doing all the dangerous steps first. The find a bit of gold, but also release the chemicals that the Japanese experimented with. The thieves hop a boat for Hong Kong. Sunny falls into a fishing boat; he gets very hungry, eats some of the catch, and grows quite fat. The crew discover him and throw him overboard while out at sea near Hong Kong. In return for changing her tire, Sunny gets a ride home with Angel, who is a star reporter on CSS News on television. The mutated thieves stage a violent, showy, and very public attack. Two expert researchers (Suen Ho and Tai) are brought in by the police. Angel loses her job because her producer found a younger woman to sleep with. Sunny regains his usual shape the next morning. His Uncle Tak thinks Sunny is trouble. The Malaysian police blame the thieves in the troupe; Tak gets most of his possessions appropriated in recompense. Sunny goes to straighten all this out with the police. By chance he meets Angel outside the police station where a robber is holding a policewoman hostage. Sunny throws a stick through glass, then through the robber's hand. Sunny is lionized, and Angel helps him get away from the crowds. The mutated thieves see Sunny on TV, and are really angry, since Sunny recovered his normal shape, whereas they stay messed up. In fact, they are moving to a second stage. The attack soon enough, and Sunny is both quite skilled at fighting them, but sometimes also quite bad since he is unfamiliar with his mutant powers. The two researchers intervene. They also have usual abilities, but perhaps not enough to match the thieves. Sunny and the researchers eventually prevail. Sunny becomes the hero, and then a media star with Angel's help. The 'researchers' are just using Sunny as bait. More confrontations are to come, especially since the lead mutant wants to drink Sunny's blood to return to normal. In a major confrontation, Tai is killed. Sunny convinces Suen Ho to train him. Meanwhile, the mutants continue to evolve and unleash a reign of terror across the defenseless city. Angel has no idea whether Sunny is alive or dead. Who will win the final confrontation? Will Sunny find himself before the city is burned down? Will Sunny and Angel become more than business partners? -------Scores------- Cinematography: 8/10 Almost always good-looking and well-shot. Sound: 5/10 The incidental music was reasonable for increasing tension. Unfortunately, in the dubbed version I watched, the translation was terrible. The subtitles did not match the spoken dubs most of the time. The sound of the voice was disinformation. Acting: 6/10 I liked the performances of the two principals, Aaron Kwok and Qi Shu in this film. However, compared to his performance in the glorious Floating City, Kwok was using less than 10% of his craft. It was like watching a master chef conducting a wienie roast. I did not believe the acting of much of the supporting cast. Hearing the dubs by anime voice actors made this much worse. Screenplay: 5/10 As an action comedy, this should have been quite good. However, the war between the subtitles and the dubbed text was a major detriment. The director's intentions were much harder to see when the voice said one thing while the subtitle said something contrary or even contradictory. When my sons were younger, I watched many hours of anime with them; this was usually the North American version of the anime. I recognize some of the anime voice actors used in this live action film. This added another layer of dissonance. SFX: 6/10 Mixed bag here. Some FX are well done and fit well with the fight choreography. Others look just plain stupid. There is also the recurrent matter of explosions that seem to have no cause at all. I found those the most annoying.
Ed Collins
Not a bad Hong Kong sci-fi-action flick, but it's a bit complete mess. The lead character is insipid and uninteresting, the storyline is poorly developed, and the emotional subplots are laughable and unconvincing. Shu Qi and Zhang Jingchu aren't bad in their roles, and some of the kung-fu action is decent. There's also Aaron Kwok and his crazy overacting - and hey, if entertainment has a name, it's Aaron Kwok. Despite this major setback, Benny Chan (Invisible Target, New Police Story) who has a track record churning out entertaining action flicks over the years is still an adept hand in conducting massive mayhem be it on the highway or high-rise buildings with his frequent collaborator, action choreographer Nicky Li. Obviously when it comes to action sequences, no one do it better other than Chan and Li with the nimble combination of wirefu and explosions. The various fight sequences populated with plenty of CG enhanced daggers turned out to be less memorable and engaging this time though it will still please the action fans seeing Colin Chou sparring with Wu Jing and so on. I see Chou is yet again in a one-dimensional, poorly-written baddie role that he so commonly portrayed in the nineties.
Dean McKenna
Super Reviewer
Benny Chan's City Under Siege doesn't live up to its name, yet it does find a way to amuse.
The story is straightforward, while the storytelling is uneven. The 1 hour 50 minute run time contains the humor, the action, and even some drama; however, overall the film feels somewhat, for lack of a better word, cheesy. That isn't to say that this is an awful picture because it is entertaining in a silly way.
Given the talent of a few of the actors, the martial arts wire-fu action is lacking in quantity. As for the quality, it is pretty good despite some overload on the makeup and CG effects.
The cast is loaded and Aaron Kwok is the star of the show. His performance is the most notable piece in the entire film, aside from some of the action segments. Simply put, Shu Qi is nothing out of the ordinary. Jingchu Zhang, Wu Jing, and Collin Chou never reach their full potential and this is a disappointment.
City Under Siege does have its flaws and its satisfaction level is a toss up. Not a high recommendation, but one to take a chance on.
City Under Siege (Chun sing gai bei) Quotes
There are no approved quotes yet for this movie.
Discussion Forum
Discuss City Under Siege (Chun sing gai bei) on our Movie forum!