Cleanflix
(2009)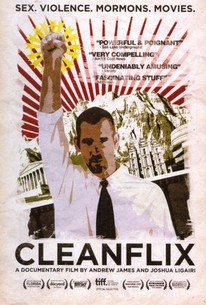 Movie Info
The true story of a handful of Mormon movie buffs and their efforts to clean up Hollywood hits (and make money doing it) are chronicled in this documentary from filmmakers Andrew James and Joshua Ligairi. In Utah, a state where a significant number of residents are members of the Church of Jesus Christ and Latter Day Saints, a number of video store owners found it difficult to find popular films that their customers would find suitable for family viewing. One shop stepped forward with the notion of creating edited versions of recent hits, with nudity, adult language, drug use and violence clipped out using digital editing software. Calling their product "Cleanflix," the sanitized versions of titles such as Titanic, The Big Lebowski and The Matrix were an immediate success, and a number of other Utah video stores followed suit. However, when Cleanflix and similar services began making their product available via mail order and the internet, not everyone was happy about it. The studios that owned the copyrights on the original films filed suit against the edited video services, asserting they were selling films that were not rightfully theirs, and a number of leading filmmakers (including Steven Spielberg, Steven Soderbergh and Martin Scorsese) launched a well-publicized campaign against movies being edited by outside parties for commercial use. Some of the edited movie dealers continued to operate in defiance of legal injunctions, though one found himself involved in a most unexpected scandal. Cleanflix was an official selection at the 2009 Toronto International Film Festival.
Critic Reviews for Cleanflix
Audience Reviews for Cleanflix
A fascinating documentary on a subject that I'm quite passionate about. The lines between safe censorship and altering an artist's vision is a thin one, and Cleanflix was a company that floundered on the side of altering an artist's vision, especially when that vision incurs realities of the world we live in. I'm a nondenominational Christian, and we're told in the Bible to be in the world, yet not of the world. Part of being in the world is be able to confront the horrors, alongside the beauty.
Brandon Schmidt
I knew nothing about this before watching this documentary. As an appreciator of cinema & a former Mormon this was incredibly entertaining to me. HIGHLY RECOMMENDED
Anatoly Shashkin
Interesting portrait of the rubes, sleazeballs, and dilettantes who believe that their own personal morality trumps all artistic expression, and therefore instead of simply avoiding films containing material that they find offensive, actually edit the films to be 'family friendly'. If you have any stake in this debate at all, and any sense of artistic integrity (not to mention freedom of expression), you'll either loathe or seriously question the putzes who founded the titular company, and the many imitators who cashed in on the whole mess. Things take an ugly turn in the final act, but it's none too surprising that a group of men (and they're ALL men who run these companies) so obsessed with removing sex from the public discourse should actually turn out to be frothing sexual obsessives. In any event, a well-done film on a controversial subject. Also, I'll NEVER live in Utah!
Steve Joseph
Cleanflix Quotes
There are no approved quotes yet for this movie.
Discussion Forum
Discuss Cleanflix on our Movie forum!