Cleopatra's Second Husband
(1998)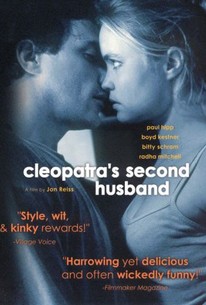 TOMATOMETER
AUDIENCE SCORE
Critic Consensus: Critics say Cleopatra's Second Husband is unappetizing to watch and moves too slowly. Also, you don't care what happens to the characters.
Cleopatra's Second Husband Videos
Cleopatra's Second Husband Photos
Movie Info
Leaving for vacation, art photographer Robert (Hipp) and his controlling wife Hallie (Schram) leave their house to two house-sitters Zack (Kestner) and Sophie (Mitchell). Things take a turn when they return home and find that Zack and Sophie want to stay. A twisted erotic love triangle develops as this young married couple who've lost the passion in their relationship become involved with the sexy house sitters who won't leave...--© Indican
Rating:
R
Genre:
,
Directed By:
Written By:
In Theaters:
On DVD:
Runtime:
Studio:
Cast
Critic Reviews for Cleopatra's Second Husband
Audience Reviews for Cleopatra's Second Husband
Cleopatra's Second Husband (Jon Reiss, 1998) When it comes to bad movies, there are circles. There is the bad film. (And to continue the Dante allegory, Purgatory is the place where one finds those so-bad-they're-great films of which we all have a nostalgic library in our heads.) There is the awful film. There is the terrible film. Etc., etc. ad nauseam, all the way down to the ninth circle. In my own personal film mythography, the ninth circle of celluloid hell can only ever be occupied by one movie. That movie holds the title of The Worst Movie Ever Made That Does Not Star Hugh Grant. (The qualifier is there because About a Boy is, and will most likely always be, the worst, most offensive film ever made.) Since I came up with this analogy, a single film has held the title: Zombies Ate My Neighbours: The Movie, a film you have almost certainly not seen made by a bunch of amateurs who were most likely very drunk the entire time. It is the kind of thing that will make you want to tear your eyes out of your head and re-insert them incorrectly so you never have to be exposed to the horror that is Zombies Ate My Neighbours: The Movie again. Where About a Boy is the worst movie ever made because it is offenseive to the very core, ZAMN:TM is the second-worst movie ever made because it is so completely inept an attempt at making a movie. Or at least, it was, in my universe, the second-worst movie ever made until last night, when I first encountered the bottoless pit of despair that is Cleopatra's Second Husband. My problem is that I am a Radha Mitchell fan. Well, okay, âfanâ? may be a bit of an understatement. I am a certified Radha Mitchell fiend, the kind of person who will go to whatever lengths necessary to hunt down every frame of celluloid on which the woman has appeared. (Though in my defense, while I have a copy of the movie she made with Woody Allen sitting on my entertainment center, I haven't been able to bring myself to watch it yetâ"my Radha Mitchell fetish has its limits, and those limits are defined by Woody Allen, it would seem.) This is not solely because when Ms. Mitchell steps outside, the sun puts on SPF30, though that is certainly a part of it. It's also because Mitchell's films have, in the main, presented me with great entertainment over the years, from the cheesy space opera of Pitch Black to the one-person suspense of Visitors to the luscious romance of High Art. I mean, come on, she almost managed to make Phone Booth worth watching. This, on the other hand, was unsave-able. In addition to Mitchell, you could have put Ben Affleck and Matt Damon, or Mel Gibson and Danny Glover, or Morgan Freeman and Brad Pitt, or pick your favorite acting twosome, in the lead roles here and this movie still would have caused you to start hitting yourself over the head with the nearest mallet within half an hour. Billed as an âerotic thrillerâ? (it manages neither), Cleopatra's Second Husband gives us, at least at the beginning, the story of Robert (Bad Lieutenant's Paul Hipp) and Hallie (Monk's Bitty Schram) Marrs, a yuppie couple who get the chance to take a week's vacation out in the middle of nowhere. They hire Zack (Hannibal's Boyd Kestner) and Sophie (Mitchell) to house-sit for them while they're out. All well and good until they get back and are sweet-talked into letting the pair stay an extra week while they close a deal on another place to live. You know where this is going, but what you don't know is that it gets there in the most tedious of waysâ"and once it gets where it's going, there's another hour of movie to go. I'm not going to guarantee it, but there's a possibility this movie might have benefitted from an extensive script rewriteâ"to something that made some semblance of sense, was better-paced, and knew where it was going and how to get there. Better acting in some key roles would have helped, though given the calibre of actor to be found here, the problem there must be placed at the feet of the director (a quick check of IMDB shows that this is Reiss' only feature-length film that is not a documentary). A cinematographer whose sole method of expression isn't âmurkyâ? would have improved matters a bit. But honestly, I'm not sure craking all those things to ten would have improved this mess. It is an awful, awful movie, and if you never get the chance to see it, you will be doing yourself a great service. (zero)
Robert Beveridge
One of those potentially interesting movies that takes its sweet time getting to the point - by which time many audience members will likely have bailed out or dozed off.
Lee Mayo
Discussion Forum
Discuss Cleopatra's Second Husband on our Movie forum!
News & Features