Clipping Adam
(2004)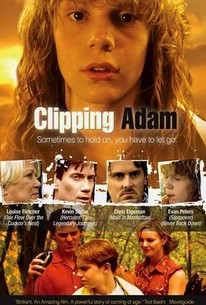 AUDIENCE SCORE
Critic Consensus: No consensus yet.
Movie Info
A kid who is still struggling with the loss of a parent has an unexpected challenge thrown in his path in this coming-of-age drama. Adam (Evan Peters) has just wrapped up his last year in middle school, and is waiting out the summer before he enters high school. Adam is still dealing with the death of his mother and younger sister in a car wreck two years earlier. In tribute to them, Adam hasn't cut his hair since the accident, while Adam's father (Chris Eigeman) prefers to blunt his own sorrows by drinking and giving his son bad advice. Given to angry outbursts of violence, Adam finds he's better off turning to his grandmother (Louise Fletcher) or Father Dan (Kevin Sorbo), an open-minded priest who prefers talking to kids on the basketball court rather than in the church rectory. Over the summer, Adam makes friends with Johnny (Bryan Burke), but he also gains an enemy -- Jerry (Donato Mario Alleva), an older student with a bullying personality and a hatred of long hair.
Critic Reviews for Clipping Adam
There are no critic reviews yet for Clipping Adam. Keep checking Rotten Tomatoes for updates!
Audience Reviews for Clipping Adam
½
Clipping Adam is a very moving story about a 14 years old boy dealing with an incredible loss. One that no one can truly understand unless they've gone through it themselves. The story takes place 2 years after the accident and shows a still very greifing family headed in the wrong direction. Adam on the verge of high school, needs to turn a corner, and attempts to do so with the help of a new best friend and a priest. It didn't sound very appealing to me either, but I decided to give it a shot and I am sure glad I did. Evan Peters is terrific in his debut performance. This movie is heart felt, genuine, and real. It showed me the best way to get over your problems, no matter how big or small is with the help of others. Hiding away and drinking, or not cutting your hair is never the answer. A truly inspiration film, with no hollywood influence or unwanted storylines. I highly recommend it!
Todd Smith
Super Reviewer
Clipping Adam Quotes
There are no approved quotes yet for this movie.