Tout contre Léo (Close to Leo)
(2003)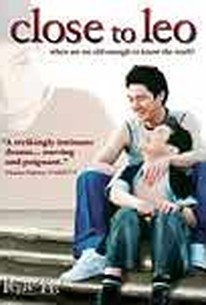 AUDIENCE SCORE
Critic Consensus: No consensus yet.
Tout contre Léo (Close to Leo) Videos
Tout contre Léo (Close to Leo) Photos
Movie Info
French filmmaker and playwright Christophe Honoré adapts his own novel for the family drama Close to Léo. In the coastal town of Brittany, twentysomething Léo (Pierre Mignard) lives with his supporting family: mom (Marie Bunel), dad (Dominic Gould), and his three younger brothers. Everyone is shocked to learn the truth when Léo reveals that he's HIV positive. Brothers Tristan (Rodolphe Pauly) and Pierrot (Jérémie Lippmann) are old enough to understand, but everyone agrees little Marcel (Yannis Lespert) shouldn't hear about it. However, Marcel overhears the family's discussion and ends up feeling left out. Léo eventually takes him on a trip to Paris in order to explain his situation. Close to Léo was shown at the 2003 San Francisco Lesbian & Gay Film Festival. ~ Andrea LeVasseur, Rovi
Rating:
PG-13
Genre:
,
Directed By:
Written By:
In Theaters:
On DVD:
Runtime:
Critic Reviews for Tout contre Léo (Close to Leo)
All Critics (1) | Fresh (1) | Rotten (0)
How rare to see a film where the drama comes out of a strong family finding ways to grow even stronger.
Audience Reviews for Tout contre Léo (Close to Leo)
Christoph Honore's earlier work. An (personal) emotional relief rather than a proper narrative. Seeing AIDS from a kid's eyes was a rare idea but the film still stays on a very superficial level & many characters had been wasted.
WS Wu
½
This is a film that is much more then about a young man dieing of AIDS. this is the type of film that American filmakers can never do properly. What we have here is an 18 year old HIV+ young man and his superb relationship with his 12 yr old devoted brother It is about the relationshiop between him and his younger brother. A relationship full of love and admiration. Yannis Lespert, as Marcel, Leo's young brother, The story also points out how important it is that a family pull together during times of adversity and that AIDS affects everyone, in a family and just because a boy is 12, the truth should not be withheld. Ulitimately Leo takes Marcel along on a trip and the two are afforded the opportunity to be honest with one another, as well as grow closer than ever.a movie about Marcel would be a great follow up to this movie.
Wizard Wizard
Close to Leo (2002) - "Never use words you don't understand." - Papa The oldest of four boys, 21-year old Leo breaks the news to his family that he is HIV+. The close-knit family closes in about him, trying to do what they can to help, while shielding the youngest brother, 12-year old Marcel, from the news. Meanwhile, Leo struggles to accept a life where he is severely limited by the disease. There are several moral themes in this French-made film. There's the obvious theme of dealing with a family member who is not only gay, but infected. There's the moral quandary of whether to shield the youngest from the potential risk of losing the older brother he adores, which means keeping secrets and telling lies. There's the affection that each of them feel for each other. Oh, and the boyfriend that wrote beautiful love letters that Leo ignored for a year before realizing that he was sick and acknowledging that he was in love, only to be rejected for his failure to respond to those letters. And there's the question as to whether or not life is worth living with a life-long, incurable disease that must be treated with an army of medications. The point is - this story is loaded with moral themes, and as much as it bothers me to say it, they don't always work well together. Each of the themes is credibly portrayed, in script and in the acting, but the story appears to struggle to accept them all as equals.
Rich Brown
Tout contre Léo (Close to Leo) Quotes
There are no approved quotes yet for this movie.