Club Fed
(1990)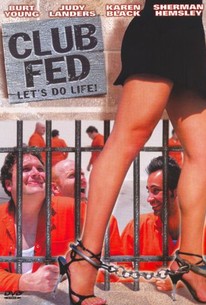 AUDIENCE SCORE
Critic Consensus: No consensus yet.
Movie Info
The FBI wants to shut down a luxurious minimum-security prison, so a high-placed official (Joseph Campanella) sends an undercover agent (Lance Kinsey) to root out any sign of crime. ~ John Bush, Rovi
Rating:
PG
Genre:
Directed By:
Written By:
In Theaters:
On DVD:
Runtime:
Studio:
Rumar Films
Critic Reviews for Club Fed
There are no critic reviews yet for Club Fed. Keep checking Rotten Tomatoes for updates!
Audience Reviews for Club Fed
½
78% "You give me back my TV show and I'll heal all you motherfuckers!"-The Reverend (Sherman Hemsley) A very goofy 80's comedy (which includes sight gags and cartoon noises). Hemsley was funnier then shit, while Kinsley played his part in the tradition of THE NAKED GUN. Judy Landers...ahhh, judy, I could look at her for hours. Her...eyes are so...yeah. As for the subject matter, I feel strongly about it and it pisses me off but I won't go in to it. "Please don't insult me, I'm not a bimbo anymore."-Angelica Paziotopolous (Judy Landers)
FilmGrinder Stone
½
You wouldn't think that Procter from the "Police Academy" movies, Rocky's brother-in-law and Judy Landers would have a lot in common. You would think they would be stuck in reality TV hell somewhere, but they're actually all stars of a made-for-video clunker called "Club Fed". I am forced to admit that there are a couple of mild laughs here, but in oder to make the rest of this yawn-fest bearable, it needs a lot more than that. The ecelectic, B-movie cast is game, and I suppose with better material they might have been able to pull something off here, but the film is a disaster from the script level. There's nowhere to go but down. Considering how many times her relative's name appear in the credits, this was obviously conceived as a career revival for Landers, but any blonde can look as good as she does and play dumb this convincingly. The filmmakers could have just as easily cast Loni Anderson for the part. The plot doesn't make a lot of sense, and it seems to me that it's needlessly complicated for a movie of this nature. Most of the humor is immature, but at least it's fairly clean and avoids the raunchiness that is even less funny in other similar features. And I did smile a couple of times. "Club Fed" doesn't have a lot going for it, but you can say one thing about it. The weird cast of characters all look like they're having fun, but you're not likely to have any of that rub off on you.
Timothy Sanders
FBI agent "Howard Polk" (Lance Kinsley) is on surveillance when he sees the beautiful girlfriend (Judy Landers) of the one the gangster he has been tailing. While he is watching them, the man's ex-wife (former roller derby and professional wrestling star Queen Kong) is literally directly under him trying to shoot both her ex-husband and his girlfriend, and he is completely oblivious that she is just about two feet below him as he watches the ex-wife miss her intended targets with rifle shots. When the two leave the view of the window which "Polk" is watching them through, the man dies in a moment of passion. "Polk" then goes after other white collar criminals as the FBI Director, "Vince Hooligan" (Joseph Campenella) is angry that funds are being made available for an extremely minimum security prison for white collar criminals. He will do anything to stop this experimental project named "Club Fed" that he makes plans with the warden (Burt Young) to get it closed. Meanwhile, "Angelica" (Landers) is convicted for the murder of her boyfriend and is sentenced to "Club Fed". And "Hooligan" sends "Polk" in to watch her because, as he tells "Polk", she is embezezling funds from the prison. As "Angelica" reports to the prison, which is run and looks like a five-star hotel, we meet other inmates, all of which are over-the-top. While undercover in the prison, he gets to know "Angelica". who he instantly fell for when he saw her through the window. She is beautiful and sweet, but a complete airhead and is blind as a bat unless she wears her horn-rim glasses. He quickly learns that she is not the criminal the courts branded her to be, and the target of the ex-wife of the bumbling ex-wife of "Angleica's" late boyfriend. Now "Polk" looks for the real criminals, while learning first-hand of the rehabilitation methods of "Club Fed". This movie is in the same vein as the "Airplane!" and "Hot Shots!" movies, but has a lot of time to catch your breath between jokes. Unlike those other movies, "Club Fed" is filled more with funny lines more than funny bits happening behind the performers in the scene. You will also get some funny physical comedy with Landers' character when she is not wearing her glasses, and some amusing moments with Queen Kong, who is known to professional wrestling fans of the 1980's when she was known as Matilda the Hun of Gorgeous Ladies Of Wrestling (GLOW). When it comes to the jokes, you will have some good laughs and chuckles. The characters are not completely developed, but the performances. Many of the actors are near perfect in their roles. Kinsley, who is best known as "Procter" in the "Police Academy" movies, was a little more toned down in this movie, and was surprisingly good as a lead actor. Landers, best known as one-half of the Landers Sisters with her sister, Audrey, is playing her typical airhead shtick in this film, and is pretty funny. One person who almost completely steals his scenes is "George Jefferson" himself, Sherman Helmsley as a greedy former televangelist serving his sentence in the swanky prison. Personally, I would have liked to have seen more of "Hooligan" in this movie to help advance the storyline of him trying to close down the prison. When it comes to the movie's soundtrack, they used complete No Bodies to record the tracks. In fact, in many scenes, you could tell that this was a low budget movie. Many scenes, like the courtroom scene where "Angelica" is finding out her sentence from an off-camera game show announcer, are filmed in very simple rooms of a building and do not look like they should be. This movie is far from being an Academy Award winner, but it's plain fun to watch. I wouldn't put on a "Must See" list, but I would check it out if you find it on On Demand or on HBO.
Mickey Micklon