Clue
(1985)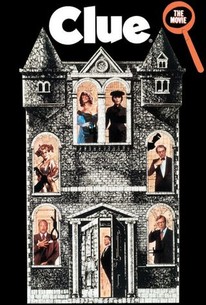 Movie Info
In this spoof of McCarthy-era paranoia and 1950s wholesomeness, the characters and plot are drawn from the popular Parker Brothers board game of the same name. On a dark and stormy night in 1954, six individuals with ties to Washington are assembled for a dinner party at the swanky mansion of one Mr. Boddy (Lee Ving). Boddy's butler, Wadsworth (Tim Curry), assigns each guest a colorful name: Mr. Green (Michael McKean), Col. Mustard (Martin Mull), Mrs. Peacock (Eileen Brennan), Professor Plum (Christopher Lloyd), Miss Scarlet (Lesley Ann Warren), and Mrs. White (Madeline Kahn). Two additional servants, the Cook (Kellye Nakahara) and Yvette, the maid (Colleen Camp), assist Wadsworth as he informs the guests that they have been gathered to meet the man who has been blackmailing them: Mr. Boddy. When Boddy turns up dead, however, the guests must try to figure out who killed him so they can protect their own reputations and keep the body count from growing. Three separate endings were filmed for Clue and shown in different theaters; all three are collected for the video edition. Although the film is set in the 1950s, the original Clue game was actually devised by Anthony Pratt, a clerk in Leeds, England, to pass the time during World War II air-raid drills. First released in 1946 under the name Cluedo by British manufacturer Waddington's, Clue was renamed and released in the U.S. in 1949. Today, Clue/Cluedo is marketed in 70 countries around the world and has been adapted into a British game show and an off-Broadway musical. ~ Brian J. Dillard, Rovi
Rating:
PG (violence)
Genre:
, ,
Directed By:
Written By:
In Theaters:
On DVD:
Runtime:
Studio:
Paramount Pictures
News & Interviews for Clue
Audience Reviews for Clue
A deliciously ingenious and funny adaptation that lives up to the fun of the famous board game on which it is based and exhibits an amazing attention to details, while Tim Curry stands out in the great cast and completely steals the scene in the film's clever possible endings.
Carlos Magalhães
Super Reviewer
Coxxie Mild Sauce
Super Reviewer
This film based on the popular board game is actually a surprising treat. Although not perfect, this is a well acted movie with an entertaining story. Clue has an impressive cast of talented actors. The film is entertaining from start to finish, but at times, you can clearly see where the filmmakers seemed to rush on the ideas. I'm actually surprised that they were able to make something watchable while using a board game as a basis for its plot. Years later, they would do the same thing with Battleship, but varied to decent results. I have to say Clue is a fun movie to watch if you're in the right state of mind, and it will keep you guessing right up till the very end. The cast here are what keep you interested from the first frame onwards, and even for all its flaws, it's worth seeing and is not as bad as you'd think. With what the filmmakers had to work with, Clue is an average, worthwhile viewing experience that could have been far worst, but is lots of fun from start to finish. Don't go into this one expecting a great film, you won't find it here and there is plenty of aspects that could have been improved upon, but for what it, Clue is mindless thrills and entertainment and is a better movie than Peter Berg's Battleship. Like I said before, the cast make it work, and there is enough varied talent to really make a watchable movie that is entertaining, but flawed. Despite its shortcomings, there are enough good things on-screen to make it worth checking out.
Clue Quotes
| | |
| --- | --- |
| Wadsworth: | Three murders. |
| Mr. Green: | Six altogether. |
| Wadsworth: | This is getting serious. |
| | |
| --- | --- |
| Col. Mustard: | Do you like Kipling Miss Scarlet? |
| Miss Scarlet: | Sure I'll eat anything. |
| | |
| --- | --- |
| Miss Scarlet: | Why has the car stopped? |
| Prof. Plum: | It's frightened. |
| | |
| --- | --- |
| Mrs. White: | Yes, I did it. I killed Yvette. I hated her so much, it...it...it... flames... flames, on the sides of my face, breathing...breathless...heaping breaths... heaping-(Wadsworth interrupts) |
| Mrs. White: | Yes, I did it. I killed Yvette. I hated her so much, it...it...it... flames... flames, on the sides of my face, breathing...breathless...heaping breaths... heaping.[Wadsworth interrupts] |