The Cobweb
(1955)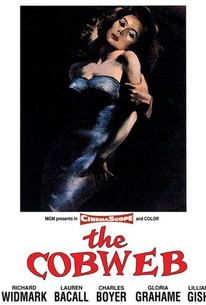 Movie Info
In this film, based on William Gibson's novel, Richard Widmark plays the head of a posh psychiatric clinic. Widmark's wife Gloria Grahame jockeys for the honor of selecting new drapes for the hospital's library. Thanks to those drapes, we are allowed to probe the disturbed psyches of several patients.
Rating:
NR
Genre:
,
Directed By:
Written By:
In Theaters:
On DVD:
Runtime:
Studio:
Critic Reviews for The Cobweb
Audience Reviews for The Cobweb
½
Minnelli managed to assemble an all star cast for such a strange concept. On paper it would seem like the plot of a screwball comedy but the movie is played completely straight, and is all the worse for it. You'll be screaming at the characters to lighten up. None of them are particularly likable, neither inmates or administrators. You would think someone with as much experience of clinics as Minnelli had, thanks to his estranged wife, would give us more of an insight. The patients just aren't convincing enough and are reduced to big name extras. The administrative staff are given cliched storylines to follow. If there are any central characters it's Widmark and Grahame, a bickering married couple. Bacall is completely wasted in a throwaway role as a chain-smoking activities director. Levant is perfectly cast as an inmate but doesn't get enough screen time to exploit his melancholy persona. Perhaps the movie would have fared better had it been made twenty years later. With it's sprawling cast it resembles the films of Altman but Minnelli couldn't call on the technology that allowed Altman his famous overlapping dialogue. Considering the subject matter the movie is far too sane. A seventies version would have allowed a lot more freedom to explore the issues. At one point, young inmates Kerr and Strasberg leave the clinic for a night at the cinema. A metaphor perhaps for Minnelli's plunging himself into his work to escape the grim reality of life with Judy? There have been some great movies set on psychiatric wards, "One Flew Over The Cuckoos Nest", "Shock Corridor", but I wouldn't bother booking yourself in for treatment here.
The Movie Waffler
Super Reviewer
½
It's all about the DRAPES!!!! Truly odd film is loaded with great actors and a ludicrous story. How it ever got the green light from the studio is mystery number one, that Vincente Minnelli said okay to directing it is the second although that would explain why so many great actors allowed themselves to be involved. Laughable take on mental health but good for one fun viewing as a camp catastrophe.
½
[center][img]http://www.festival-larochelle.org/images/films/1337.jpg[/img][/center] (Copy of a copy from TCM) (First Viewing, 11th Minnelli film) Mid-1950's melodramatics of the highest order, complete with lofty intentions and a high-minded seriousness that only underlines the general silliness. In its own way, however, it does show how thin the line separating what's considered "sane" and "insane" truly is, especially when taken within certain contexts. But then, that's the (very obvious) point. Set in a high-class sanitarium, THE COBWEB follows a number of the high-strung patients and the doctors and administrative staff taking care of their mental health. Appropriately, and rather ingeniously, the plot revolves around the new drapes being hung in the library, a minor incident that quickly escalates into a clash of egos, a battle of wills, and eventually, a matter of life and death. The "cobweb" refers to the messy, tangled strands of storyline that trap all those involved (which is clearly stated in the climactic closing speech, in case the audience hadn't caught the symbolism yet). The biggest draw of THE COBWEB is its remarkable cast, probably one of the most spectacular ever assembled in a Hollywood film. It seems Minnelli was intent on getting everybody (and I mean [i]everybody)[/i] into this film, including what was at that time Hollywood past (Lillian Gish, Fay Wray, Charles Boyer), Hollywood present (Lauren Bacall, Gloria Grahame, Richard Widmark) and betting on Hollywood future (Susan Strasberg and John Kerr, though their fame never materialized despite admirable respective runs). And that's not even counting the likes of Oscar Levant, Adele Jergans, Paul Stewart... had he been able to fit Judy Garland in there somewhere, Minnelli would have had just about all the bases covered. This star power gives THE COBWEB most of its thrust, and makes the general histrionics all the more pleasurable. While some of the performers are swallowed up in the parade of actors (particularly Widmark, and Bacall comes dangerously close, saved only by her enigmatic, smoldering sexiness) but many of the performers give shrewd, memorable little performances-- one thinks of Graham, Kerr, Jergans, Strasberg, Wray, and particularly Gish, who dominates every scene she's in. It's amazing how Minnelli is able to juggle all of these characters without dropping at least a few of them, but he pulls it off with startling aplomb, demonstrating once again why he's classic Hollywood cinema's most consistently underrated class act. Now if we could just get this on DVD with a nice print. Such a deliciously bad movie deserves to be available to all.
Jesse Last
The Cobweb Quotes
There are no approved quotes yet for this movie.