Cocaine Cowboys II: Hustlin' With the Godmother
(2008)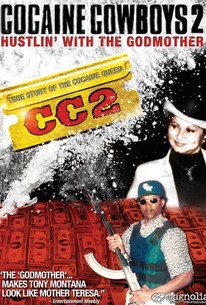 AUDIENCE SCORE
Critic Consensus: No consensus yet.
Cocaine Cowboys II: Hustlin' With the Godmother Photos
Movie Info
In this documentary sequel to the film that followed the development of the cocaine trade in 1980s-era Miami, filmmaker Billy Corben details the rise of Oakland, CA-based cocaine dealer Charles Cosby, who went from small-time drug slinger to multi-millionaire in a matter of months. Back in the early '90s, Cosby was selling ounces on the street and struggling to survive. Later, after writing a fan letter to "Cocaine Godmother" Griselda Blanco, who was serving a sentence in a federal prison, Cosby and Blanco struck up a lucrative partnership. Just six short months later, Cosby and Blanco were lovers, and the former fan now placed in charge of Blanco's 40-million-dollar a year cocaine business. But over the years, Blanco had earned the nickname "The Black Widow" for her propensity to drain men dry and permanently dispose of them when they ceased to be of use to her. Before long, Blanco becomes obsessed with ensuring that Cosby is faithful to her, and the former small-time drug dealer finally begins to realize that he may have inadvertently gotten in over his head.
Critic Reviews for Cocaine Cowboys II: Hustlin' With the Godmother
All Critics (1) | Fresh (0) | Rotten (1)
While Cocaine Cowboys was a vivid portrait of a specific time and place, this sequel is just a hagiography for an undeserving thug.
Audience Reviews for Cocaine Cowboys II: Hustlin' With the Godmother
Sequel to Cocaine Cowboys takes a look at the Oakland crack cocaine trade seen through the eyes of Charles Cosby. Cosby recounts meeting Griselda Blanco, the Godmother of Cocaine, and the film takes a look at her life as well. This is quite interesting, but like the first film is raw and gritty, however this film feels less compelling even if it's an interesting topic. I really felt that this documentary could have been better and due to its subject, should have been something memorable. As it is it's a worth seeing, but is not a documentary that stands out either. The subject is good, but I feel that the documentary could have been reworked to be a much better document. If you enjoyed the first one, you might like this one, but it is a film that just ends falling short of its potential. The subject is interesting of course, but it isn't great either. The way it is presented is not to glorify this form of lifestyle, as I find this lifestyle appalling. The film shows how bad this lifestyle is and its consequences. Yes, it is easy money, but people who go into this business never last and each one faces an unavoidable downfall. This follow-up along with the first shows just that, but in the end it's not a film that you want to rewatch. This film is for people who enjoy crime documentaries, and it gives you an interesting portrait of the illicit trade. I liked it, but it is far from the best documentary that I've seen. Worth seeing once, but not more. The film had potential of being much better, but it is an average film in the long run.
A mislabeled DVD resulted in me seeing the sequel of Cocaine Cowboys without seeing the original. Not to matter, this one was a very interesting portrait of Griselda Blanco and her connection to big cocaine business going through Miami. Compelling criminals.
John Ballantine
Super Reviewer
You know how when someone gives commentary in a documentary and there's always text next to them listing their name and profession? Well I should've known what I was getting myself into when the opening speaker (and subject), Charles Cosby was introduced as a "Real Nigga." Yet still I watched. It definitely had its interesting moments. Charles Cosby is perhaps the only drug dealer (who was WAY on top of his game in the 90s) to make it out of the game without losing his life and/or freedom. What made his story even more intriguing was his romantic life: the man dated and worked for Griselda Blanco, the cocaine "Godmother" of Columbia and Florida. The prequel was more professional, in my opinion, but this film still had some interesting facts and information about how the Godmother ran her operation, even after getting arrested for some of her crimes in Florida. The only thing that ruined it for me was how quickly it devolved into a ghetto fantasy for young black men out there who idolize rappers who claim to be former drug dealers. There were really stupid moments, in my opinion, segues into computer animation to reenact certain incidents (which I guess was cheaper than hiring actors). Cosby was a very articulate person though I have to question a man's sanity when he brags about all of the illegal things he's gotten away with (not to mention all of the dangerous people he's pissed off). I still recommend it if you're a fan of gang history (recent and past) in America.
Remi Logan
Super Reviewer
Cocaine Cowboys II: Hustlin' With the Godmother Quotes
There are no approved quotes yet for this movie.