The Cockettes
(2002)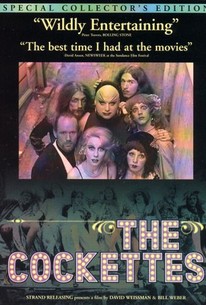 The Cockettes Photos
Movie Info
A chronicle of the rise and fall of the legendary San Francisco theatrical troupe, The Cockettes (1969-1972). As the psychedelic San Francisco of the '60's began evolving into the gay San Francisco of the '70's, The Cockettes, a flamboyant ensemble of hippies (women, gay men, and babies) decked themselves out in gender-bending drag and glitter for a series of legendary midnight musicals at the Palace Theater. The Cockettes were founded by "Hibiscus," a member of a commune that was dedicated to distributing free food and to creating free art and theater. The early shows were mostly non-narrative revues, with everybody making their own costumes, and creative spontaneity reigning supreme. But with "Pearls Over Shanghai" the Cockettes produced their first show with all-original script, music and lyrics. Combining grand spectacle with the awkwardness of a high school operetta, The Cockettes thrilled audiences as much with their unpredictability as with their triumphs.
Rating:
R (for nudity, sexual content, drug references)
Genre:
, , ,
Directed By:
David Weissman
,
Bill Weber
,
Bill Weber
,
Anton Dunnigan
,
Dusty Dawn
,
Fayette Hauser
,
Goldie Glitters
,
Holly Woodlawn
,
Jilala
,
John Flowers
,
John Rothermel
,
John Waters
,
Kreemah Ritz
,
Larry Brinkin
,
Marshall Olds
,
Michael Kalmen
,
Billy Weber
In Theaters:
On DVD:
Runtime:
Studio:
Cast
Critic Reviews for The Cockettes
Audience Reviews for The Cockettes
San Francisco Summer of Love that dare not stay the same recounted by counter-culture drag/drug/dole demi-monde.
James Wagoner
[IMG]http://i18.photobucket.com/albums/b106/hereinmyhead/steven_cockettes.jpg[/IMG] This was a very good doc on well a troupe of hippie acid freak drag queens who put on daring shows mainly in 60's-70's San Francisco. Not a moment wasted with real footage and interviews that made this a treat. I mean come on people Divine and Sylvestor were in this troupe. Further proof that this era would have been a fucking blast to have partied in. I always preferred the blodder myself, you?? Ultimately the free angels of light were destroyed by egos, drugs, and AIDS. Tragic and very very engaging!! [IMG]http://i18.photobucket.com/albums/b106/hereinmyhead/LUMINOUS_GROUP_SHOT.jpg[/IMG]
Randy Emerson
½
[b]What am I missing?[/b] Looking around for highly regarded documentary films to watch, I ran across [i]The Cockettes[/i]. In 2002 it won the Grand Jury Prize at the Sundance Film Festival, it was nominated for Best Documentary at the Independent Spirit Awards and holds an 89% fresh rating at RottenTomatoes.com. "These are the sort of things that I aspire towards for my own film," I thought. "I better check it out." I ended up being extremely bored through majority of the film. Filmmakers Bill Weber and David Weissman certainly found an interesting subject. The Cockettes came about in San Francisco during the late Sixties, the absolute apex of the hippy movement. A group of mostly gay men, dressed in the most garish drag you've ever seen; stoned out of their mind on LSD; putting on highly elaborate, but sloppy productions, for the cream of the subculture. A good start, that should make for a good story. They've found tons of photos and films of their subjects and surroundings. They've gathered together all the remaining Cockettes for interviews. Their homework has been done. When it came time to put together the film; they take this way-out-there concept and put it together in the most dry and stagnant way possible. I seriously would have rather watched the [i]VH1: Behind the Music[/i] version of this film. I would have gotten all the same information, in half the time, with a slightly better sense of style. Before I got into them, this is exactly what I used to think about documentaries, and exactly why I steered clear for years. In [i]The Cockettes[/i], we're introduced to a former Cockette, they talk about their past, we see some correlating footage or photos. We're introduced to another former Cockette, they talk about the same thing, we see more footage. Repeat, ad nauseam... we blandly move from the beginning of their timeline to the end. [img]http://hollywood-elsewhere.com/truth/images/thecockettes.jpg[/img] The Cockettes in all their glory. We learn that they were brought together by Hibiscus, a good looking former soap opera actor that came to San Francisco to find himself. (Apparently an acid laced Jesus in drag, is what he was meant to be.) A bunch of like-minded folks decide to join up with him. They convince the Palace Theater to allow them to put on shows before the underground movies were shown. Soon the Cockettes are a cult hit. They build up quite a reputation and decided to take their show on the road to New York City. The elite of the New York art scene, Andy Warhol and the like, come out to see them. They immediately recognize the Cockettes for what they are; a bunch of talentless, drugged out hippies in drag writhing about on stage, and send them packing back to San Fran. A bunch of the Cockettes die from AIDS... The End. I don't mean to sound harsh towards the Cockettes themselves. I imagine they were quite the sight at the time, though the help of the audience's LSD use obviously didn't hurt. I'm sure that somewhere in there, there is a great story to be told, but [i]The Cockettes[/i] didn't accomplish it. "Simply the facts ma'am." I've revealed them, so you the reader, don't have to bother with this film for yourself.
Ross Williams
Discussion Forum
Discuss The Cockettes on our Movie forum!
News & Features