Cockfighter
(1974)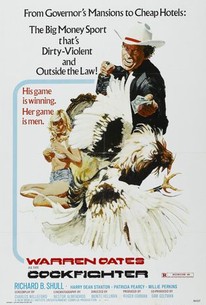 Movie Info
Also known as Born to Kill, Wild Drifter and Gamblin' Man, the film explores a Georgian (Warren Oates) who trains fighting cocks for championship tournaments.
News & Interviews for Cockfighter
Critic Reviews for Cockfighter
All Critics (5) | Top Critics (1) | Fresh (5) | Rotten (0) | DVD (3)
Hellman embraces, with visual nuance, a world of back roads and forests, grim motels and ramshackle arenas, and he approaches the intricacies of the subculture ... with a cool Hemingwayesque moralism.
This is a blood and guts art film with unforgettable intensity and stark scenes that few films have managed to capture with such fervor.
A great film with a masterful silent performance by Warren Oates.
January 17, 2003 | Rating: 5/5
Audience Reviews for Cockfighter
this is a great film and i've seen much worse animal cruelty in films if that's a concern. warren oates carries it well with harry dean stanton in fine support
Stella Dallas
Super Reviewer
I cannot decide why I think Hellman is in many ways a genius. Is it because he managed to make an existential drama out of a movie about something so violent & arcane as cockfighting? Or is it due to the fact that he managed to see the brilliance of both Warren Oates & Harry Dean Stanton & had them share the screen in not one, but two of his films? I don't know exactly. The jury is still out. But like his previous film "Two-Lane Blacktop", the viewer follows the exploits of a lone anti-hero, looking to make his own way in this mixed-up world. His drive to cockfight seems to be the product of some sort of compulsion. People in his life lecture him incessantly on the virtues of self-control, but those people, like most other things in his life, aren't much more than pawns to him. Movable when an opportunity to improve his game presents itself. It isn't the brightest study of the post-sixties American character, but it is sure fascinating. I can understand why this film didn't go over so well with the general public. The animal cruelty on display is at times hard to bear. Yet, Hellman expertly cuts back and forth between the violence of the pit and the audience jeering & grinning at the carnage, looking to be both entertained and to make some extra cash. One guy is even seen ostentatiously choking back chicken during one fight. Also, the faces of the dead birds are juxtaposed with the faces of those onlookers who seem to understand the depth of the depravity. Again, it is hard to watch, but Hellman uses the slaughter to great effect. When it is all over, it is hard to decide who to pity more: the birds or the people? It is a sad portrait of a people who seem to find their meaning in such a brutish existence. While it may not be on the whole better than his other films, Hellman proves once again that he can capture the underbelly of the American dream like nobody else.
½
In theory, "Cockfighter" has plenty in common with director Monte Hellman's earlier classic "Two-Lane Blacktop." Warren Oates has a prime role in both films, and both stories follow a nomadic anti-hero who drives around the country making bets on his own quirky, outlaw talent. It's just that "Blacktop" was about drag racing rather than cockfighting. The film's most unusual element is that Oates barely says a word. His character Frank has taken a temporary vow of silence, due to wasting a bird after overconfidently bragging about its prowess. Oates rises to the acting challenge, mostly communicating with his eyes and hands as he deals with an unsupportive girlfriend (Patricia Pearcy), a ditzy road fling (doomed Laurie Bird, who also appeared in "Blacktop"), a financial backer (Richard B. Shull) and his chief rival (Harry Dean Stanton, wonderful in one of the first roles to establish his highly successful, second-phase persona). You also get the young Ed Begley, Jr. thoroughly embarrassing himself as a naive rube. Add a slew of Southern good ol' boys in smaller parts, and the cast becomes a virtual feast of character actors. The animal violence (seemingly not faked) will turn off many viewers, but it's not as gruesome as one might guess. It's nearly bloodless, except in the climactic battle. The emphasis is more on the men who watch and participate in this "sport," and how they have a twisted gentleman's code of sorts despite the fighting's fundamental depravity. The matches do have rules and a referee. You'll resist rooting for Frank to win, but you'll be interested in what makes him tick.
Eric Broome
Super Reviewer
Cockfighter Quotes
There are no approved quotes yet for this movie.