Coffee and Cigarettes
(2004)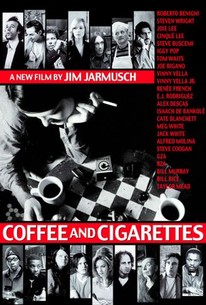 Coffee and Cigarettes Photos
Movie Info
A comic series of short vignettes build on one another to create a cumulative effect, as the characters discuss things as diverse as caffeine popsicles, Paris in the '20s, and the use of nicotine as an insecticide--all the while sitting around sipping coffee and smoking cigarettes. As director Jim Jarmusch delves into the normal pace of our world from an extraordinary angle, he shows just how absorbing the obsessions, joys and addictions of life can be, if truly observed.
News & Interviews for Coffee and Cigarettes
Critic Reviews for Coffee and Cigarettes
Audience Reviews for Coffee and Cigarettes
½
Casual as a coffee break and with Jarmusch's delicious offbeat humor, this unpretentious collection of vignettes in black and white is curiously entertaining and sometimes even hilarious, flowing by from one chat to another as its celebs savor their java and smoke.
Carlos Magalhães
Super Reviewer
Jim Jarmusch's set of vignettes was filmed over 17 years and tells the intertwined stories of many famous individuals, and their love for coffee and cigarettes. Every vignette tells a different, quick story, and underlies differences in culture, health, beauty, and age. The film stars everyone from Roberto Benigni to RZA, and though each section feels incredibly different due to the subjects in them, the tone is pure Jarmusch. Most of what makes this film special are the little moments that remain unsaid, or are very subtle. In "Renee" we watch a poor waiter try to engage with a quiet woman, alone at a table, but every time he starts a conversation she rebuffs him. It's a very low, quiet scene, but it says a lot about what the waiter wants from her, and what she's willing to give him. In "No Problem" two men have a conversation, and one of the men doesn't want to reveal his gambling problem, which is only asserted in the last few seconds of the short. It's these moods, these little incongruities that make this film an essential watch, and an enjoyable one at that.
Spencer S.
Super Reviewer
½
A compilation of short vignettes filmed between the mid-80s and 2003, this is Jim Jarmusch's stylish, lo-fi ode to casual conversation over and about the title vices. Shot in crisp black and white, what we get are 11 short scenes featuring 2-3 celebrities in each that consist of them sitting around conversing about various topics while they partake in coffee and cigarettes (or, in a couple of cases, tea...but even then the talk is about coffee). Some of the scenes are a bit dull, even boring, but thankfully the next one isn't too far off. It starts out a bit slow, but gets better and better as it goes on. I didn't like the Tom Waits and Iggy Pop segment as much as I thought I would, but I loved the Cate Blanchett, White Stripes, and Steve Coogan/Alfred Molina segments. The one with the Lees and Buscemi is good, too. Even if some of the bits are a bit dull, at least the music throughout is consistently awesome. Some of this is really funny, and maybe even a bit profound at times even. Even if this is uneven, I am a big fan of what this film is about, as I have personally spent countless hours doing the same stuff as the people featured here. I think that's why I wanted to see this to begin with, since that was before I became a confirmed fan of Jarmusch. All in all, this is a relaxed, cool, and unique little piece of work. My score is admittedly based somewhat on my bias, but that shouldn't deter you from checking this out for yourself.
Chris Weber
Super Reviewer
Coffee and Cigarettes Quotes
There are no approved quotes yet for this movie.