Cohen and Tate
(1988)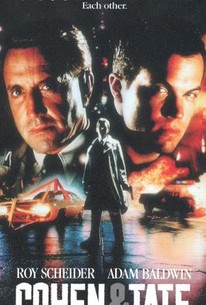 AUDIENCE SCORE
Critic Consensus: No consensus yet.
Movie Info
Travis (Harley Cross) is a nine-year-old boy who lives in Oklahoma with his federally protected parents. After the mob kills his parents for ratting on them, the gangleader demands that Travis be brought to Houston. Cohen (Roy Scheider) is the veteran hitman who signs on for one last job. Much to Cohen's dismay, he is paired with the psychopath Tate (Adam Baldwin). When Cohen does nothing to hide his dislike for his new partner, young Travis begins to play one thug against the other in a psychological mind game in hopes their confrontation will lead to his freedom.
News & Interviews for Cohen and Tate
Critic Reviews for Cohen and Tate
All Critics (3) | Fresh (3) | Rotten (0) | DVD (1)
Cohen & Tate is, at times, shockingly violent and, at other times, darkly funny. A solid, entertaining little thriller.

Given the restrictions of being a first-time director on a limited budget, Red didn't conceive Cohen & Tate to be different than other films of its ilk. He just opted to do it better.
A tightly wound, consistently intense and refreshingly uncompromising thriller that's the kind of superior B movie Hollywood used to make all the time.
Audience Reviews for Cohen and Tate
½
A road trip movie from hell....sharpe and well paced thriller that delivers solid if not sxpectacular performances from the leads.
bill secor
Its a generation gap for mafia hitmen as they drive a child back to their employer. After killing the boy's mother and father in a rather gruesome opening scene, the film has a terrific start. Roy Schieder unfortunately isn't a good guy in this one but he's worth watching as he's a better person than his young hot head partner Tate (Adam Baldwin). Cohen and Tate are two mafia hitmen who don't exactly hit it off. Cohen is an old pro, a cold-blooded killer who is all about business. Tate is a young hot-head who kills for fun. Together, they kidnap 9-year-old Travis Knight, an eyewitness to a recent mob rub out. Now, they've got 24 hours to deliver him to Houston for interrogation and elimination. Realizing their mutual hatred is his only hope, Travis plays this lethal odd couple against one another. But when their volatile words explode into a fiery gun battle, he's caught in the crossfire. The obviously more talented Scheider is so much better than Baldwin, who over acts as a psycho. Having the boy outwit these two is of course, pure fiction and hurts credibility. But still, who knows what goes on in such a tense filled situation. The saving grace of the film is Roy Scheider, the aging but still professional. With hearing aid and all, he lets us know who's boss. I heartedly recommend this tense thriller for all that love criminal action flicks. Its a long ride to Houston in this ride to hell. Original Release Date: Jan 27, 1989 Cast Roy Scheider Adam Baldwin Harley Cross Cooper Huckabee Suzanne Savoy Crew Director: Eric Red Writer: Eric Red Producer: Antony Rufus Isaacs Producer: Jeff Young Cinematographer: Victor J. Kemper
monsieur rick
Cohen and Tate Quotes
There are no approved quotes yet for this movie.