Cold Storage
(2006)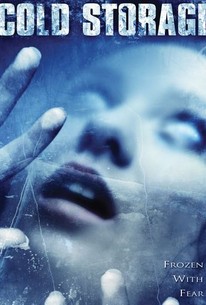 AUDIENCE SCORE
Critic Consensus: No consensus yet.
Movie Info
A backwoods recluse steals the body of a young girl killed in a violent car crash, locking her in the freezer of his isolated shed as her sister and boyfriend search frantically for any clues to her whereabouts. The woman of Clive's dreams may be dead, but she'll always be true and she'll never grow old - at least as long as he keeps her on ice. When Cathy and Deric show up looking for the missing traveler, Clive takes them both hostage in a sinister bid to hide his ghoulish secret.
Rating:
R (for some violence, disturbing images and language)
Genre:
Directed By:
Written By:
In Theaters:
On DVD:
Runtime:
Studio:
LionsGate Entertainment
Critic Reviews for Cold Storage
There are no critic reviews yet for Cold Storage. Keep checking Rotten Tomatoes for updates!
Audience Reviews for Cold Storage
Meh. It was a big rip-off of "Misery," with a few minor changes to the story. The acting was done poorly, and I really don't see what this movie had to do with "Cold Storage." I don't even know why it's called Cold Storage, it really has nothing to do with the film. But the cover does make it look more eerie, and suspenseful, and the killings were actually pretty descent, so I'm going to give this film a chance.
Jacob Palacio
Super Reviewer
This movie is so boring. Not really sure why everyone is giving it a 90%, maybe compared to most movies it's better, but seriously? The pacing for this movie is so off. It's a lot of talk and a little show. It's just dialogue after boring, uninspired dialogue. There's just scenes and scenes of people sitting there doing nothing but talking. It's amazing how much these poorly developed characters have to say. Like SHUT UP DAMMIT! Blah blah blah blah they talk a lot and they talk slow. Completely lost my interest. They don't even talk about anything interesting. The amount of unnecessary dialogue made this movie go by soooo slowly. Nothing even happens until the 45-50 minute mark. The whole movie was so anticlimactic. There was no suspense whatsoever. The characters were so underdeveloped; they had no personality at all. It would've been great to have a deep back story on some of them, but nope. There was kind of a back story with Clive, but not much. Not worth watching.
½
This movie, dispite what people are saying is acually really good. Not the most origional of movies but it defenatly perfects the whole obsession type thriller movie. Basically a super hillbilly finds some woman who gotten into a fatal car accident and takes her home. Now this man by the name of clive seems to have some sort of mental disability and it defenatly shows by his actions and for how long he keeps this dead lady. The movie was extreamly disturbing with a scene that will stay with me for life (spoiler) that is when clive is like scraping away his gum disease or whatever it was with a stright edge. Im sorry but that was fricken disgusting. The only downside to this movie was the mediocre acting but not every character showed this only a select few but overall alot of the acting was really good. This movie was great and i would reccomend to many people, the disturbing nature of the movie made up for the parts were nothing was really going on.
robert paris
Cold Storage Quotes
There are no approved quotes yet for this movie.