Coldplay Live 2012
(2012)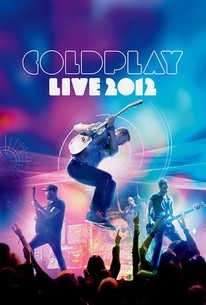 AUDIENCE SCORE
Critic Consensus: No consensus yet.
Movie Info
Coldplay Live 2012 is the band's first concert film/live album for nine years. It documents their acclaimed Mylo Xyloto world tour, which has been seen by more than three million people since it began in June 2011. Directed by Paul Dugdale, Live 2012 includes footage from Coldplay's shows at Paris's Stade de France, Montreal's Bell Centre and the band's triumphant Pyramid Stage headline performance at Glastonbury 2011.
Critic Reviews for Coldplay Live 2012
Audience Reviews for Coldplay Live 2012
"Is there anybody out there?" Fantastic!!! This is clear to see in the film's live footage, as from the moment Martin lays his fingers on the piano kicking a Parisian gig off, the chemistry between the band members is rather beautiful to watch. Throughout, it appears as if everyone in attendance is having the time of their lives watching Coldplay having the time of their lives. Chris Martin springs about the stage like an eight year-old that's had too many Skittles, Jonny Buckland's guitar riffs sparkle like stars, Will Champion powerfully pounds the drums whilst also providing backing vocals, most effective and quite touching during an 'intimate' rendering of 'Us Against the World' and Guy Berryman allows his bass guitar to do the talking, remaining something of a beating-heart within the group. Giving this documentary distinction from most concert films today, a number of intermissions provide a insightful peek behind-the-curtains, with each band member discussing various elements of the tour, giving their perspectives of these and how they evolved and how they try to keep a constant connection with the audience, even in a venue as large as the Stade de France. This personal bond with the fans is something vital to Coldplay's live shows, separating them from practically all other arena rock bands out there today, making everyone in the audience feel like they're part of the show. Best seen when, after performing 'Charlie Brown', Guy Berryman takes a moment to stand back and appreciate the awe-inspiring sight of over 80,000 twinkling wristbands before them. The film also succeeds on a technical level, with great sound design and audio mixing, and cinematography that effectively captures the feeling of experiencing a band like this live, without ever relying too heavily on frantic camera-work and shaky-cam as many have in the past. Over the course of footage from Paris, Spain, Montreal and of course, Glastonbury, fans are treated to a great tracklist, complete with upbeat crowdpleasers ('Viva La Vida', 'Paradise') and surprisingly emotional moments ('Up in Flames', 'Us Against the World'). Will this film covert the many naysayers? Probably not, but will it please the fans? Undoubtedly. It cements Coldplay's position as the today's kings of stadium rock, showing us a band at the top of their game always driven to go the extra mile for their fans. In live 2012, watch coldplay amaze crowds in Montreal, France and Glastonbury festival and Spain on there mx world tour playing out a string of hits, as well as giving you a look behind the scenes at the crew who make it all happen with an interview from all the band members. With the light up wristbands in Charlie Brown, The chanting of Viva La Vida and a performance with a vip guest, this is a show not to be missed.
Coldplay Live 2012 Quotes
There are no approved quotes yet for this movie.
Discussion Forum
Discuss Coldplay Live 2012 on our Movie forum!