Colette
(2018)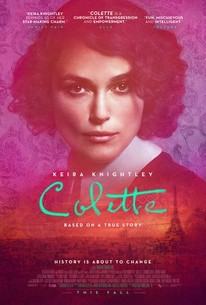 TOMATOMETER
AUDIENCE SCORE
Critic Consensus: Formally familiar but a brilliant match for its lead, Colette is a thoroughly entertaining biopic and an overdue testament to Keira Knightley's underrated gifts.
Movie Info
After marrying a successful Parisian writer known commonly as "Willy" (Dominic West), Sidonie-Gabrielle Colette (Keira Knightley) is transplanted from her childhood home in rural France to the intellectual and artistic splendor of Paris. Soon after, Willy convinces Colette to ghostwrite for him. She pens a semi-autobiographical novel about a witty and brazen country girl named Claudine, sparking a bestseller and a cultural sensation. After its success, Colette and Willy become the talk of Paris and their adventures inspire additional Claudine novels. Colette's fight over creative ownership and gender roles drives her to overcome societal constraints, revolutionizing literature, fashion and sexual expression.
News & Interviews for Colette
Critic Reviews for Colette
Audience Reviews for Colette
"I can read you like the top line of an optometrist's chart." Colette is a mixed bag of being both your standard period drama (gorgeous costumes and production design) while telling a story that feels all the more timely in regards to today's conversations (bisexuality, transgender individuals, etc.). If nothing else, Colette shows this conversation about gender and gender fluidity has been ongoing for much longer than some might care to admit. What is unfortunate about Wash "Still Alice" Westmoreland's adaptation of these true events is a lack of any real narrative drive which, oddly enough, is Colette's husband's first critique of her first "Claudine" novel. That said, it's not hard to appreciate that Westmoreland allows his stars in Keira Knightley and Dominic West (both solid to great in certain moments) to define their relationship as one of genuine love and affection before sending it off the rails as the film details some rather weird and ultimately complex interpersonal dynamics between the two of them. It's all rather fascinating in terms of being the topic of a dinner conversation after the fact, but in the moment it never engages to the degree one is truly emotionally invested in any aspect of Colette's life as presented. Westmoreland, Richard Glatzer, and Rebecca Lenkiewicz's screenplay does feature some rather excellent dialogue and the glaze of an interesting commentary on the societal expectations of men at the turn of the century and the glaring differences between what was thought of as a gentleman and what is actually a gentle man permeates throughout, but is never fully fleshed out. In an early scene Knightley's Colette tells her mother (played by Mrs. Dursley herself, Fiona Shaw) that marriage and her life up until that point has been "nothing like she imagined" which comes to be rather ironic given Colette went on to turn every expectation she likely had for her life on its head. It's only too bad the film as a whole couldn't accomplish this as well. Turn of the century Paris was crazy though, y'all.
Philip Price
Super Reviewer
A gracious account of the early stages of Colette's life, this show has the ingredients of a first class item. Visually it is fabulous - the beauty of Knightley, the production of historical detail, the balanced photographic tableaux, the vivid interiors, and the long takes that draw the most from the actors, scenes and performances. The screenplay advances smoothly, with direction and editing that seem completely assured. Knightley finds and maintains the core of the character, who develops from ingénue, to young wife, to frustrated intellectual and artist, to finding sexual and professional adventure, and then to reaching a powerful maturity. The supporting roles are understated, without surrendering the film to being just a star vehicle; throughout, they are directed and performed to an equally fine standard as Colette. Comparing say A Quiet Passion, this film does not reach as deep emotionally, nor does it speak and bring to life much of Colette's actual writing. It takes a more external focus and is less powerful for that. Not a fault, but rather a decision that enables the Colette film to appeal to a wide audience, to give very fine entertainment, while delivering the key historical facts and illustrating eloquently the obstacles faced by a brilliant woman writer.
½
The #MoiAussi movement chronicled in the first half of her life as the Claudine ghostwriter. This role is right in KK's wheelhouse and she embraces it. Interesting but not inspirational. Tomlinson emotes an embarrassing Blanche DuBois voice and an overstuffed farting Dominic West is amusing. (10-13-18)
Colette Quotes
There are no approved quotes yet for this movie.