Collier & Co.
(2006)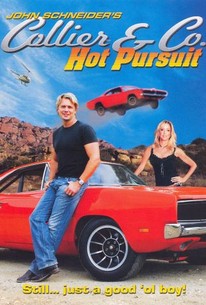 AUDIENCE SCORE
Critic Consensus: No consensus yet.
Movie Info
A former car racer gets more than he bargained for when he attempts to settle down and start selling used cars alongside his former mechanic in this rubber burning chase film directed by and starring The Dukes of Hazard's John Schneider. J.R. Collier (Schneider) is a racecar driver who thrives on speed, but when his wife Becky threatens to divorce him and take the couple's daughter Danielle away, the devoted wheelman suddenly downshifts. Realizing that he could very well lose his family, Collier decides to abandon the racetrack for the life of a used car salesman. But Collier still longs to drive fast, and in order to build up his lot he begins racing other drivers for the pink slips to their cars. Of course it isn't long before Collier has built up an impressive array of automobiles. Trouble arises, however, when Collier races an overconfident, Ferrari driving Texan and wins the papers to a car with a valuable secret. As it turns out, the owner of the Ferrari is a man named Mr. Fanning, and Mr. Fanning is willing to do whatever it takes to retrieve his valuable property. After kidnapping Collier's wife and daughter, Mr. Fanning sends a team of his most talented men to get the car back. Not realizing that his wife and daughter are in grave danger, the unsuspecting Collier does his best to avoid the fast driving thugs at all costs as the situation grows increasingly tense.
Critic Reviews for Collier & Co.
There are no critic reviews yet for Collier & Co.. Keep checking Rotten Tomatoes for updates!
Audience Reviews for Collier & Co.
It's a fun movie that harkens back to the days of the family friendly chase flick. It plays like a long episode of the Duke of Hazzard but thats ok because the story is fun. You really do hope that J.R. can get things right. The thing I really like about the movie though is the way it was made and the story behind that is almost as good as the movie itself. I recommend you check it out and watch the movie plus the bonus vid on the making of the flick and the efforts to distribute the film across the country.
Jason Spencer
Super Reviewer
Collier & Co. Quotes
There are no approved quotes yet for this movie.