Colossal
(2017)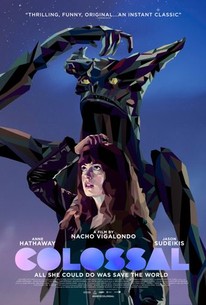 TOMATOMETER
AUDIENCE SCORE
Critic Consensus: Colossal's singular strangeness can be disorienting, but viewers who hang on may find that its genre-defying execution -- and Anne Hathaway's performance -- is well worth the ride.
Movie Info
Gloria is an out-of-work party girl who, after getting kicked out of her apartment by her boyfriend, is forced to leave her life in New York and move back to her hometown. When news reports surface that a giant creature is destroying Seoul, South Korea, Gloria gradually comes to the realization that she is somehow connected to this far-off phenomenon. As events begin to spin out of control, Gloria must determine why her seemingly insignificant existence has such a colossal effect on the fate of the world.
News & Interviews for Colossal
Critic Reviews for Colossal
Audience Reviews for Colossal
½
Makes enough pseudo-sense that those who are turned off by absurdism will be able to handle it, but still bizarre enough to get those who are fans of it on board. There might be some odd choices made in characterisation, and it's a far from perfect film, but Colossal works for me in a big way, and I want to see more original material make it like Colossal did.
Gloria (Anne Hathaway) has a monster of a problem. She's lost her job, her boyfriend (Dan Stevens), and is forced to move back home to her parents' empty house. She gets a job at her childhood friend Oscar's (Jason Sudeikis) bar. Then one night the news is filled with a 100-foot tall lizard monster magically appearing in Seoul, South Korea. This lizard only seems to appear at a certain hour, and Gloria realizes that she is somehow connected to this giant beast and responsible for its movements. What's a working girl to do? Colossal is a different kind of monster movie, that's for certain. It's got a dynamite premise that allows for plenty of different tones. There's an inherent wackiness in a party girl discovering that her actions have a very extreme set of consequences. For a while it's a slice-of-life picture about coming home and readjusting to the rigors of adult life, something Gloria has been putting on hold while soaking up the pleasures of New York City and the patience of her live-in boyfriend. She's picking up the pieces of her life and sometimes an acquisition of furniture like a futon can feel like a small triumph. There's a simple rhythm to these early scenes and writer/director Nacho Vigilondo slowly reveals more and more about character histories and relationships, remarkably free of ungainly exposition. There is a remarkably accomplished and sly sense of discovery with the movie, first with the implications and abilities of Gloria's monster avatar and with the movie itself. There's a cheeky sense of fun watching Gloria discover her connections to the monster and the special effects are pretty good for such an odd indie film. What are the monster's intentions? Where does it come from? Why is this patch of land and Gloria so special? Fortunately Vigilondo doesn't stop there. From a rules standpoint, there's only so much to learn through trial and error, but it gets even more complicated when Gloria decides to tell her buddies the news. Now it's about keeping her secret and making sure these often drunk, often-misbehaving guys don't cause an international incident. Hathaway (The Intern) is at turns hilarious and heartbreaking and she completely owns the movie, which she filmed while in her second trimester of pregnancy (explains the omnipresence of heavy coats). She has to play a woman who has self-absorbed and self-destructive qualities while not shutting out audience empathy. Hathaway brings out multiple dimensions in her flawed character. She can be cowed easily through guilt and intimidation, failing to meet up to her own standards she holds for herself, but she can also derive a quiet strength that pushes her to take a stand and make a change. Hathaway is apt at the blend of comedy and drama and she's a star with genuine acting chops. Despite her struggles and setbacks, we want her to succeed and she feels all too human. It's midway through where Colossal makes a sharp turn into territory I didn't see coming and reveals its true intentions, which are much darker and uncomfortable. Fair warning to readers, I'm going to try and avoid specific spoilers but even talking about the second half of the film serves as a spoiler in itself, so keep reading if you so choose. Beforehand, the movie has presented itself as a fun, slightly whimsical take on a down-on-her-luck party girl discovering a weird power. The monster serves as metaphor and I thought it was going to be a relatively obvious metaphor for alcoholism, something she had to work through and get her life back together, putting away childish things and integrating back to the world of responsible adults she's been avoiding. Then the turn happen and you realize that the monster isn't a metaphor for alcoholism but for abusive relationships. As you can imagine, this is more or less when the comedy slowly comes to a halt. It backdoors you into reconsidering everything that's come before and ingeniously plays the charms of its actors against your preconceived notions. It's a movie about abuse and manipulation and the capitulation to that abuse. Whether the source of that abuse is derived from alcoholism is up for debate, but I insist it's a complicated mixture of substance abuse, unchecked entitlement, and toxic masculinity. Oscar becomes our villain, and it may feel like a sudden shift to many viewers, especially those who were expecting him and Gloria to end up romantically linked by film's end. Colossal can be seen following a more familiar rom-com formula of the girl who goes home, reconnects with old friends, and becomes romantically linked, and the movie uses your expectations against you. Because of that, you may excuse Oscar's behavior, downplay it, and rationalize that he, like Gloria, is trying to gather his bearings and grow up. That's not the case. That's not the case at all, and the movie explores this notion by giving a serial abuser new unfettered power to endanger a multitude of human lives, people who are invisible to his angry outbursts and thus made even more expendable in his mind. This tonal turn dominates the second half and I can imagine many people will be put off and disappointed by how heavy and uncomfortable a giant monster movie has become. An emotionally abusive person will stop at any manipulation to keep people within his or her orbit so they constantly have targets for abuse. We get several scenes that examine this dynamic as Oscar tears apart his friends one veiled menace monologue after another, pushing their insecurities and influencing control over them. He's the "nice guy" who thinks the world owes him more than he's ever gotten, but a choice reoccurring flashback reveals he's always been this way. Oscar didn't turn into a jerk, he was this way from the start, and he's just gotten better at hiding his darker intentions, and he'll likely always be this way without redemption. Sudeikis (We're the Millers) digs into his character's misanthropy without going overboard, which makes him a far more realistic depiction of an abuser taking advantage of other people's good graces and chances. Colossal transformed into one of the more unexpected and surprisingly emotionally involving stories I've seen recently. I was set to enjoy the silly monster movie shenanigans being turned on their head with oblivious Americans unknowingly wrecking havoc on the Eastern world. Instead of global consumer commentary I got something much more personal and unexpected. I never knew where the movie was going to go next and found myself more and more intrigued by every scene. If the filmmakers could upend my expectations and keep me on the edge of my seat, then they did their jobs. The finale is magnificently executed as it employs just about all the rules we've learned concerning the monsters, space-time, and the sour relationship between Oscar and Gloria. It feels like a true culmination of events that is dramatically and emotionally cathartic. Much more than advertised, Colossal is an exciting movie for how different it ends up becoming, and yet it's still everything as advertised. Hathaway is highly enjoyable during her characters various highs and lows trying to make sense of her life. Vigilondo shapes an unpredictable narrative that subvert and overcomes formula expectations and audience sympathies. It's an involving and personal tale given an expansive scope and feel. Monster as metaphor is not a new concept. It's an externalization of our fears and labors and an expression of their cataclysmic destructive power. It also provides a focal point for a hero to overcome, and Colossal feels like somebody took a slice-of-life indie mumblecore character piece and gave it a dash of fantastical genre elements. I want to watch it again to see if I can catch nuances i missed, especially relating to characterization and performance. If you can hang on after the movie makes its midway shift, I think Colossal is a unique filmgoing experience that sees its vision to the end. Nate's Grade: B+
Nate Zoebl
Super Reviewer
½
It's about time another indie gem started to creep into a few theatres and become known. This is the time of the year when films released early in the year throughout film festivals will begin to find their audience. The most recent film I have discovered in that regard is a little movie called Colossal. If you are someone who likes thought-provoking material and find yourself constantly searching for something challenging to watch, feel free to continue reading my thoughts on Colossal, because I believe this film is for you. No film is perfect and there are quite a few "head-scratchers" throughout this film, but Colossal is a very solid effort nonetheless. Here is why I believe this film deserves more attention. Once it's discovered that a monster begins to appear and disappear in Seoul, the world becomes terrified, glued to their television screens. Discovering that she is actually the cause of this destruction some how or that she may even be linked to this entity in some way, Gloria decides to have a bit of fun with this terrible situation she has found herself in. Figuring out she's not the only one and having to cope with the fact that she is accidentally killing many innocent people, this Dramedy does not shy away from diving into some pretty deep and bizarre waters. Where I feel this film failed was in the use of the situation as a whole. Focussing much more on the romantic life of Gloria and how her actions are causing this horrific event, the film never fully explores this occurrence enough. I found myself wishing for so much more when all they were delivering was just enough to satisfy its very intriguing premise, which wasn't quite enough flavour in my opinion. There are many moments throughout this film that feel like an appetizer to a full course meal, only the full course meal never truly arrives until the final moments, not giving you enough time to let it sink in. Colossal is a very engaging film that never takes enough chances, slightly disappointing me with its conclusion. What I find oddly hilarious about Anne Hathaway being cast as Gloria here, is the fact that she has played this type of character so many times that it almost feels like perfect casting. That being said, she has never quite been in a film like this, so that aspect alone gave Colossal its unique feel. If people come out of this film saying they understood every second of it, they would most likely be lying to themselves, as there is clearly a little more to dig up upon multiple viewings. I can't say this is a film that demands multiple viewings, but I'll probably warrant it one or two more. I was sucked into this premise and found myself extremely curious of the conclusion. In the end, Colossal is a film that many people will be turned off by, but hardcore film fanatics may just love. For myself, there is a great film deep down, trying to escape from the body of an average one. I liked and disliked everything about Colossal, due to the fact that I felt they could've been exploring everything a little more. With a great idea, I felt it was played a little safe. Overall, this is a very well-made film from beginning to end. With solid writing, some very good characters, and a conclusion that is more than satisfying, as long as you go into this not hoping to be blown away, I believe you will have a great time. This little film deserves a lot more attention than the very minor splash it's currently making at the box office. If you have an open mind, check out Colossal.
Colossal Quotes
There are no approved quotes yet for this movie.
Discussion Forum
Discuss Colossal on our Movie forum!