Columbo: Death Lends a Hand
(1971)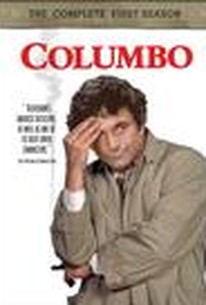 AUDIENCE SCORE
Critic Consensus: No consensus yet.
Movie Info
Brimmer, a short-tempered private detective, is hired by Arthur Kennicut, a prominent Los Angeles publisher, to investigate the publisher's wife's activities under suspicion of an extra-marital affair. Although his investigation discovers an affair with a golf instructor, Brimmer chooses not to tell Kennicut about it and proposes Mrs. Kennicut to act, in return for Brimmer's silence, as a "pipeline" for information involving powerful persons with whom her husband is involved. When Mrs. Kennicut refuses to cooperate and threatens to tell her husband about Brimmer's unsavory proposal, Brimmer becomes enraged and accidentally kills her. He then transports her body across Los Angeles and dumps it in an industrial area, hoping her death will look like a robbery gone awry. Enter Lieutenant Columbo, the cigar-smoking detective in a rumpled raincoat, who does not accept the murder-by-mugging theory surrounding the woman's death. When Kennicut assigns Brimmer to assist Columbo in the murder investigation, Brimmer struggles to deflect Columbo's increasing suspicions that he was involved in Mrs. Kennicut's demise.
Rating:
NR
Genre:
,
Directed By:
In Theaters:
Runtime:
Critic Reviews for Columbo: Death Lends a Hand
There are no critic reviews yet for Columbo: Death Lends a Hand. Keep checking Rotten Tomatoes for updates!
Audience Reviews for Columbo: Death Lends a Hand
A smart and well-crafted murder mystery, Death Lends a Hand delivers an impressive thriller. The head of a security company kills the wife of a media tycoon after his attempt to blackmail her fails, and it's up to Lt. Columbo to solve the case. The writing's especially good, particularly the storytelling and character development. Robert Culp makes his first appearance in the series, and gives a terrific performance. And, Columbo's notorious POS car, the Peugeot 403 convertible, makes its debut. Death Lends a Hand is an engaging crime drama that's full of intrigue.
Dann Michalski
Super Reviewer
Just One More Thing . . . . Alas, I cannot write a review of the episode with Dick Van Dyke or the episode with Johnny Cash. Sal Mineo, even. Or what is allegedly the only episode with Ricardo Montalban, even though literally everyone I've talked to about it remembers his being in at least four. Though at least I do remember the episode that exists, at least, the one where he is a famous matador who kills a man with a bull. Like you do, if you're a famous matador trying to kill someone. John Cassavetes, though I don't like him, I could review. But for all that, the great thing about the show was that you never ran the risk of knowing that the famous person, the one you recognized most easily, was the murderer and spending the rest of the episode bored. Because they showed you that at the beginning of the episode. Yes, okay, it was always the most famous person on the episode, but the point was to watch how Columbo unraveled it. This, however, was an early enough episode that you might still be surprised. At that, Ray Milland, appearing here as Arthur Kennicut is probably more famous than Robert Culp, who in this plays Investigator Brimmer. Kennicut has hired Brimmer to find out if Lenore Kennicut (Pat Crowley), his wife who is young enough to be his daughter, is having an affair. Brimmer assures Kennicut that Lenore is not, and Kennicut goes away happy. However, Brimmer has lied to Kennicut and plans to blackmail Lenore into providing him with information. She refuses, and he loses his temper and kills her. He then dumps her body in the hopes that it will look like a mugging gone bad or something. It is to his great misfortune that the man called in to investigate the crime is Lieutenant Columbo, homicide. Columbo is a battered man in a battered car who looks and acts like a buffoon. Brimmer thinks that Columbo will be easy to distract, but of course he's wrong. Say this much about the character--he certainly isn't too glamorous to be a Los Angeles Police Department detective. At the time he was cast in the series, he was already over forty. (He just died the other day at the age of 83, which is why we're looking at this now.) He had an honest-to-Gods glass eye, which probably would have kept him out of the LAPD. (I'm surprised he was able to drive.) In fact, most of the time, the suspects are fairly high in social circles Columbo could not hope to reach as a mere detective in the police department. In fact, here, it's why Brimmer thinks he can bribe Columbo by offering him a job at his detective agency--at probably three times the pay. And of course, Columbo is unfailingly polite. He routinely calls suspects "sir," "ma'am," or "miss." He wears that Gods-awful coat--which may end up in the Smithsonian after all, now that Falk is dead and doesn't have need of his upstairs closet anymore. He has the car, and he has the dog, and he has the cigars. He's a polite but disreputable-looking fellow. One of the great delights of the Columbo character (the closest he ever gets to a first name is that, if you freeze-frame on one shot of his ID in the Ricardo Montalban episode, it's signed "Frank Columbo") is his quiet persistence. He's never quite belligerent. He's certainly never rude. However, he gets his questions answered. At first, the suspects fail to take him seriously. In this case, it is established that the police commissioner speaks highly of him, and yet someone who knows that still assumes the lieutenant is a fool. As time goes by, he becomes a nuisance, and only at the end do they begin to worry that he might be able to work out what happened. And he always works out what happened. He says, in the bullfighting one, that he's been wrong before, and he has in most episodes. However, his instincts are good and his deductive reasoning is better. He follows the trail where it leads, even if he has to follow the same bit of it over and over. There is a running joke that Jessica Fletcher of [i]Murder, She Wrote[/i] is a serial killer. This is because the show ran 264 episodes, and Jessica Fletcher kept tripping over bodies wherever she went. The murder rate in Cabot Cove, Maine, must have been the highest in the country. However, Columbo was a detective in Los Angeles. It is not unreasonable that he would be around murders. Unfortunately, it's the only way to make a long-running detective series at all probable. You have to give the detective a reason to keep running across all those bodies, and the only people who have that happen to them are police officers. In [i]A Is for Alibi[/i], Kinsey Millhone herself informs us that most of her job as a private detective is grunt work that isn't worth hearing about. And, yes, there are a couple of episodes where Columbo is in some way out of town and ends up involved in a murder mystery. However, most of the time, he's just doing his job. And he tells us so.
Edith Nelson
½
Coldly efficient private investigator Robert Culp accidentally kills the wife of a newspaper magnate and although his suspicions are raised, Columbo has no evidence to back up his outlandish theory. One of the earliest entries in the Columbo case files, Death Lends A Hand is the first in which the affable detective nearly meets his match. There is a grudging respect between the two adversaries that gives it a markedly different dynamic from the usual cat and mouse games and it's interesting to see the different sides of Falk's character; he deliberately acts the buffoon to slyly gather the facts and we get to see the way he switches tactics when interviewing the varying personalities involved in the case. The direction is solid with some nice photography and visual flourishes, although they do occasionally cross the line into gimmickry. Death Lends A Hand is one of the first of the series to stray from the usual formula and explore the potential of the series' premise and as such is still one of my favourites.
Columbo: Death Lends a Hand Quotes
There are no approved quotes yet for this movie.