Come Back to the 5 & Dime Jimmy Dean, Jimmy Dean
(1982)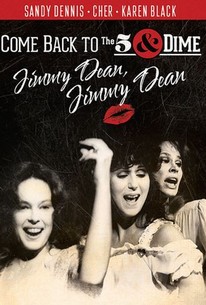 AUDIENCE SCORE
Critic Consensus: No consensus yet.
Come Back to the 5 & Dime Jimmy Dean, Jimmy Dean Photos
Movie Info
Robert Altman directed this low-budget film version of the play by Ed Graczyk, also directed by Altman on Broadway with the same cast. The film takes place in the small Texas town of McCarthy in 1975. Inside of a five-and-dime store, a reunion is planned for the members of a local 1950s James Dean fan club. An odd assortment of women arrive, revealing hidden secrets, as Altman flashes back, showing the women as young James Dean fans, and then jumps forward to present day to reveal the ravages of time and lost innocence. Among the women returning for the reunion is Mona (Sandy Dennis), a disturbed woman who, in the '50s, got a job as an extra on the Giant shoot and nine months later gave birth to a son, who she claims is James Dean's child. There is Sissy (Cher), a wisecracking waitress, and also Joanne (Karen Black), who holds a shocking secret that is revealed at the reunion. Besides the three main players, a collection of supporting characters maneuver around the periphery. They are Stella Mae (Kathy Bates), the wife of a rich petroleum executive; Edna Louise (Marta Heflin), a shy, withdrawn woman with numerous children; Juanita (Sudie Bond), the manager of the five-and-dime store; and Joe Qualley (Mark Patton), a young man who likes to dress up in women's clothing.
Critic Reviews for Come Back to the 5 & Dime Jimmy Dean, Jimmy Dean
All Critics (2) | Top Critics (1) | Fresh (2) | Rotten (0) | DVD (1)
Seems to achieve an astonishing rebirth in the transposition of a play from stage to screen. It is also a rebirth for Robert Altman, who has fashioned a stirring comeback, revitalizing his technique and presumably his career.
Washington Post
Top Critic
Dreamlike and bleakly real, fantastical and humorous, it sucks us into a vortex for two hours where all we care about is the lives of these characters.
Audience Reviews for Come Back to the 5 & Dime Jimmy Dean, Jimmy Dean
½
It's a mixture of the bizarre and the banal, a slice of lives that could never have been led, a richly textured mixture of confessions, obsessions, and surprises. May be too overtly theatrical for its own good (at least as a film), but it offers some superb performances.
Lee Mayo
***Due to the recent RT changes that have basically ruined my past reviews, I am mostly only giving a rating rather than a full review.***
Steve Smith
½
I recently saw a 35mm print of "Come Back to the Five and Dime, Jimmy Dean, Jimmy Dean" restored by the UCLA Film & Television Archive. They have done us a great service in restoring and preserving this film. Now I begin to understand the reverence in which some cinephiles hold Robert Altman. This is a powerful, affecting, and brilliantly staged and photographed film. The story morphs back and forth across twenty years, not with CGI special effects or editing cuts and dissolves, but through effects creating by lighting and staging right in front of the camera just as they were when Altman directed the play. We feel like we are peering into these characters lives as unnoticed observers within the diner, moving to stay out of the way while jockeying for the best position to watch from. The film also benefits from the experience and familiarity the actors bring from the stage production. These are not actors finding and creating their characters during filming, these are actors who have crawled inside these characters to live their lives in front of us. Must-see cinema.
Michael Harbour
Come Back to the 5 & Dime Jimmy Dean, Jimmy Dean Quotes
There are no approved quotes yet for this movie.
Discussion Forum
Discuss Come Back to the 5 & Dime Jimmy Dean, Jimmy Dean on our Movie forum!