Comedy Central Roast of Charlie Sheen
(2011)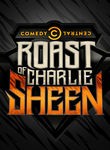 Want to See
Critic Consensus: No consensus yet.
Comedy Central Roast of Charlie Sheen Trailers & Photos
Movie Info
It's Charlie Sheen's turn to step in to the celebrity hot seat for the latest installment of The Comedy Central Roast.
more
Cast
News & Interviews for Comedy Central Roast of Charlie Sheen
Critic Reviews for Comedy Central Roast of Charlie Sheen
All Critics (1) | Fresh (0) | Rotten (0)
Audience Reviews for Comedy Central Roast of Charlie Sheen
Now Boarding the Charlie Sheen Crazy Train.

Comedy Central consistently delivers great quality shows with their Roasts. Everybody was super funny and who knew that Mike Tyson could deliver good humor as well. One special thanks goes to Jon Lovitz for the joke of 2011 that has gotten me consistent laughs with everyone I meet and "shoehorn" Charlie Sheen into the conversation. It goes: "And now a joke . . . how much cocaine can Charlie Sheen do? . . . Enough to kill 2 1/2 men." If Mr. Lovitz knew how many laughs I get repeating his joke, he'd charge me royalties. William Shatner made a few cranks to the Sheen rotisserie without hamming it up too much. Jeff Ross who's such a regular to these events that his peers love to note that this is the only job he can get. He also adds the right amount of seasoning to the roistering Warlock. The late Patrice O'Neal is an excellent roaster as well and has a funny exchange with William Shatner that doesn't go off-topic too much.
The only person who either didn't understand who the Roast was about, or was incredibly ill prepared, was Jackass's Steve O. Still anybody willing to run into a reluctant Mike Tyson's fist has my vote for a future invite. And speaking of future invites, thank you very Comedy Central for not having that, annoying, face-licking, attention grabbing, Andy Dick (head) whose only goal in life now seems to be in seeing how many people he can make cringe till their necks snap with his inappropriate distractions. And of course I can mention all the other roasters and the excellent job they did, but I'm getting a little lazy at this point.
Seth McFarlane is the perfect Roast Master in my opinion who perfectly keeps the flow going between Comedy Chefs taking their turn at the Rack-Of-Sheen. He has a mastery of being incredibly funny without stealing attention.

Lastly, no matter what a person does, I have a certain amount of respect for some one that tells a boss to (FOAD) and still gets another job. Way to go Charlie.
½
I don't care too much for Charlie Sheen so this didn't interest me. Mike Tyson looked and sounded like he was on something. Definitely needed some Lisa Lampanelli humor.
Discussion Forum
Discuss Comedy Central Roast of Charlie Sheen on our Movie forum!
News & Features