Comedy Central Roast of William Shatner
(2006)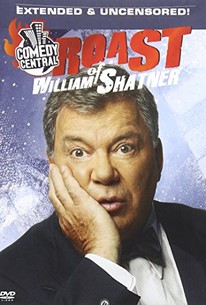 AUDIENCE SCORE
Critic Consensus: No consensus yet.
Movie Info
It's William Shatner's turn to step in to the celebrity hot seat for the latest installment of The Comedy Central Roast. A parade of Shatner's friends have gotten together to boldly go where no one has gone before: on William Shatner's sh*tlist. Tune in as some of Shatner's closest friends hang out, have a few drinks, listen to a live performance by one of the hottest bands around, and then spend ninety minutes ridiculing and insulting the man behind Captain Kirk. So sit back and enjoy the night of insults as Shatner's tries not to lose his cool - or his toupee!
Critic Reviews for Comedy Central Roast of William Shatner
There are no critic reviews yet for Comedy Central Roast of William Shatner. Keep checking Rotten Tomatoes for updates!
Audience Reviews for Comedy Central Roast of William Shatner
½
Of all the Roasts that I have seen, the William Shatner Roast is one of the best funniest. Here the roasters are an impressive bunch that each brings something great to the event. Every roaster is great, and they really are crude, in their jokes, but it's part of the fun, and it makes it that much more hilarious. This is your standard roast, and every roaster brings something memorable by saying some truly hilarious jokes. I enjoyed every roaster, and of all the Comedy Central Roasts, this is one of the most memorable ones. Is it perfect, it isn't, but it definitely is a lot of fun from start to finish. I've never been a Shatner fan, and it was hilarious to watch him getting insulted and roasted. Some of the roasters are downright brutal, and that's what makes this one of the best roasts that I've seen. If you're looking for one of funniest roasts, then this is the one to watch. The jokes are great, and vulgar, but you're able to appreciate the humor because Shatner in the end takes it in stride. Fans of roasts will surely enjoy this one as much as I have and it is one that shouldn't be missed. Roasts are great because you get to see celebrities that are quite popular be the butt of jokes for a length of time. This is a fine roast that features great bits and they're all hilarious. Definitely worth seeing if you enjoy this type of humor. Along with the roast of Bob Saget, the Shatner roast stands out among the funniest ones in recent memory.
It didnt suck. I hate Shatner with a passion, so I was stuck between never wanting to see it & seeing people belittle him infront of a crowd. In the end, it was watchable. Funny at times, shocking at others, but overall, not amazing. But in my mind, that probably has more to do with the dull cast assembled & the even duller target of their alleged wit.
Mr. Canadagraphs
Super Reviewer
Funny stuff! Lots of gay jokes at the expense of Andy Dick and George Takei. Nichelle Nicholls is hiliarious. Fun. Not too nasty. I wish Leonard Nimoy was around for more of it.
Lafe Fredbjornson
Super Reviewer
Comedy Central Roast of William Shatner Quotes
There are no approved quotes yet for this movie.