Comes A Bright Day
(2012)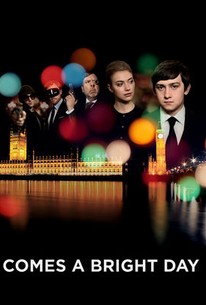 Comes A Bright Day Videos
Comes A Bright Day Photos
Movie Info
A bungled London jewel heist erupts into violence as police close in, and a psychotic criminal mastermind grows desperate to find an elusive gem in this claustrophobic thriller starring Kevin McKidd and Timothy Spall. Meanwhile, as tensions escalate both inside and outside of the jewelry store, a romance blossoms between a working class London boy and a pretty salesgirl (Imogen Poots), and the psychotic ringleader (Kevin McKidd) of the criminal gang finds his patience with the store manager (Timothy Spall) running short. ~ Jason Buchanan, Rovi
Rating:
NR
Genre:
, , ,
Directed By:
On DVD:
Runtime:
Studio:
Cast
Critic Reviews for Comes A Bright Day
Audience Reviews for Comes A Bright Day
Situations in Which You Cannot Impress the Girl My Netflix queues, both disc and streaming, are crammed with dramas, foreign films, and things helpfully labeled "classics." Every now and again, I go through the streaming options and look at literally every comedy the site is willing to offer me. By and large, most of these fit into either the category of "wow, that looks stupid" or "that doesn't look like a comedy." Sometimes, there is the bonus of "hey, both!" This one did not look like a comedy, and I was not disappointed. It's moderately funny in places, but I wonder how many of the negative reviews it seems to have accumulated are related to people feeling lied to about the existence of a comedy here where there really wasn't one. This is a drama, and there's no getting around that. It's not even as funny as [i]Hamlet[/i], which is considerably funnier than most people give it credit for. Sam Smith (Craig Roberts) works in a ritzy hotel. He is the assistant to Mr. Morgan (Geoff Bell), the manager (I think). Mr. Morgan can get you anything you need, and he is paid well for his services. One night, a guest tells Mr. Morgan that he needs a watch sized that is to be a gift for his son. Mr. Morgan sends Sam to Charlie (Timothy Spall) and informs Sam to have him do it right away. Sam dawdles, though, and while he is in the restaurant where his friend Elliot (Anthony Welsh) works, he meets Mary Bright (Imogen Poots) and tries to impress her. It goes okay, but not great. And then, she turns out to work for Charlie, and it becomes very hard for Sam to admit what he does and that the watch, which he's wearing, isn't his. And while he's trying to figure out what to do, Cameron (Kevin McKidd) and Clegg (Josef Altin) burst in hoping to do a simple snatch-and-grab. However, Charlie triggers the alarm, the police arrive, and it turns into a hostage situation. Sam isn't going to get that watch back by five. If this were an action movie, yes, Sam could impress Mary. However, in anything a little more realistic, there's the obvious problem that the sort of thing that would impress the girl is much more likely to get you killed instead. Cameron and Clegg (doesn't that sound like a law firm?) have guns. Sam does not. He gets pistol-whipped a couple of times for good measure, and there really isn't much he can do about it. He hopes that he will be able to figure out a way of getting everyone out of this unharmed, save his job, and get a date with Mary, but I don't think the odds are very good, and neither does he. Especially after Mary finds out that he has lied to her about several things in an attempt to impress her. And the things he does manage to do, she labels feminine. Of course, they're also helpful, like getting them food and easing the stress level inside the store, but they aren't the sort of thing most people think to do in action movies, so feminine. I guess. I can't help wondering how much Mr. Morgan's reputation relies on a series of people like Sam--minions he can send to go do the dirty work. He's certainly not above trading on certain personal connections, as we find out by the end of the movie, so why would he be above making employees do the work while he takes the credit? Short answer, he wouldn't, right? He's more worried about the watch than he is about Sam; we know that, too. I mean, it would have to be a pretty unreasonable guest who wouldn't accept "you know that jewelry store robbery six blocks away?" as an excuse for why the watch is going to be delivered late, especially given that the guest seems to have gotten the watch to Mr. Morgan only a few minutes in advance of his giving it to Sam. Once again, I'm certain that this is the kind of thing I'm not supposed to be dwelling on, but on the other hand, most of the movie is people sitting around a room, talking. It's a tense situation, but there's still room to let your mind wander. Really, most of the characters are idiots. Mary may be fooled by Sam, but I think she wants to be. I think she wants him to be more than he appears from a casual glance. Sam promises a lot, but he gets little done. He is supposed to be finding Elliot the backing for the restaurant, but he isn't making the necessary calls. And, of course, Elliot is trusting him. The robbers didn't have a backup plan, so far as I can tell, and really thought they'd be able to get in and out before the police got there--and didn't even plan far enough in advance to find out if there was another exit. This strikes me as one of the most fundamental things they should have learned about the target, right after whether it was worth knocking over in the first place. I suppose this is another reason people gave it such a low rating, but I sometimes find plots full of idiots refreshing, so long as everyone is a believable idiot and none of their onscreen activity could be resolved with smarter onscreen activity. Most of this idiocy happened in advance.
Edith Nelson
"I was lucky enough to stumble upon this streaming on Netflix. It's a film that can logged under the following, comedy, crime-thriller, and romance. It has all of that going for it, including some quirky characters. The script is pretty good. The dialogue between the characters is the best part of the film. The bickering and bantering is quite funny. I really liked Craig Roberts in Submarine and he doesn't disappoint in this either. Imogen Poots does a really good job in this as well. They are my only purpose for pushing play on this film to start. But it ended up being a pretty good flick. I'd see it again."
♥˩ƳИИ ƜѲѲƉƧ♥
Super Reviewer
Discussion Forum
Discuss Comes A Bright Day on our Movie forum!
News & Features