Comes a Horseman
(1978)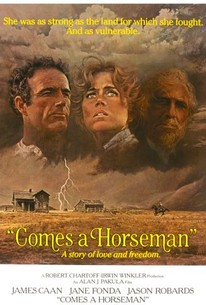 Movie Info
An evil cattle baron (Jason Robards) butts heads with a rival rancher (Jane Fonda) who won't let him steal the oil-filled land surrounding both of their ranches. Fortunately, she has the help of a war veteran (James Caan) and another old-timer (Richard Farnsworth).
Critic Reviews for Comes a Horseman
Audience Reviews for Comes a Horseman
½
Good movie and a scenic film to watch, this is the tale of a white knight rescuing a damsel in distress in the western United States around 1940. All the typical confrontations, the bar room brawls, the shootings, the tough guy neighbor rancher.... this has all been done before ad nauseum. But this film is STILL worthy of watching despite all the cliche cowboy scenes and dialog. Like aw shucks James Coburn... bad casting for me. This film is SO western cliche it gets to nausea. The film could have inspired the TV show DALLAS since a Ewing is in it ha ha and it is all about oil. Even the actor playing Jock Ewing in DALLAS appears in the film! A slow paced, long film to watch. Most will find it BORING. A modern Western set in the 1940's sometime or during WWII featuring the cattle baron Jason Robards (All the President's Men, many others). Jane Fonda fights him to retain her ranch. James Caan is the Horseman. By the way, unlike Brokeback Mountain, these male cowboys do not kiss each other (and what a relief!). Jane Fonda is the spitin' image of her father, Hank (Henry) Fonda as she fights a ruthless cattle baron Jason Robards. Although in this one she is a real bitch, a loner and someone who hates men generally. James Caan sees to remedy that. James Caan, the horseman she helps to recover from a gun shot, is just great. Who would know? In the beginning, they get along pretty crappy. At least Fonda acts like a true jerk in the beginning. Full of tension, drama, mountains, horses, and real life living.... not that fake life we see in so many Western based films. Set in the late West, after or during WWI, life is still difficult to make a living. Between dramantic moments, there is brief chasing of cattle. Worth watching once, this film on examination is basically a woman in distress helped by a stranger man. Directed by Alan J. Pakula 1960s The Sterile Cuckoo (1969) 1970s Klute (1971) Love and Pain and the Whole Damn Thing (1973) The Parallax View (1974) All the President's Men (1976) Comes a Horseman (1978) Starting Over (1979) 1980s Rollover (1981) Sophie's Choice (1982) Dream Lover (1986) Orphans (1987) See You in the Morning (1989) 1990s Presumed Innocent (1990) Consenting Adults (1992) The Pelican Brief (1993) The Devil's Own (1997) NOTE: Filming the scene where Robards' character is dragged to (presumably) his death, stunt man Jim Sheppard was killed when a horse that was dragging him veered from its course and caused him to hit his head on a fence post. The scene made it into the movie, although it is cut right before the horse passes through the gate which killed Sheppard. The Trailer: http://www.youtube.com/watch?v=exzdgFp0-UQ (the only thing I could find on youtube.com was this) Produced by Gene Kirkwood Dan Paulson Written by Dennis Lynton Clark Starring Jane Fonda James Caan Jason Robards Richard Farnsworth Cinematography Gordon Willis Distributed by United Artists Release date(s) October 25, 1978 Running time 118 minutes
monsieur rick
½
Beautifully filmed western. Fine performances, especially from Richard Farnsworth and Jane Fonda. The slow pacing works very well for this film. Expert cinematography, art direction and sound. Good story very professionally done. A tad overlong though.
James Higgins
Comes a Horseman Quotes
There are no approved quotes yet for this movie.
Discussion Forum
Discuss Comes a Horseman on our Movie forum!