Comic Book Confidential
(1999)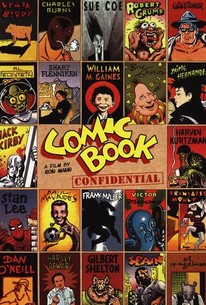 Comic Book Confidential Videos
Comic Book Confidential Photos
Movie Info
This opinionated documentary provides a surface look at both the history of comic books and the unique subculture of their fanatical collectors. Interviews with comic artists, both mainstream and underground, are included, as a look at the rise of the comic collectibles industry.
Critic Reviews for Comic Book Confidential
Audience Reviews for Comic Book Confidential
I was happy to re-watch this documentary, one of the first that I ever saw on the subject of comic book history, as told by a lot of the influential artists of that time. There's some fun, light interviews with the heavy-hitters of the medium, covering the subject up to the late 80's in relatively decent detail. I have a lot of nostalgia for this one, and would recommend it highly as a result. Check it out.
Bill Bryant
½
Comic books have long been a most under-appreciated medium, long thought of as mere children's entertainment when the truth is they've been subversive since the first time Superman took flight, on through the perverse fun of the EC Comics' Tales From The Crypt. Director Ron Mann's Comic Book Confidential seeks to encapsulate the magic of comic books through the words and images of their creators. It's a treasure trove of comic history, told by those who made it. In 1954, a Senate subcommittee termed comic books 'an important contributing factor in juvenile delinquency', but Mann and his subjects see them as an art form. His extraordinary doc includes archival footage, animation and of course interviews with twenty-two writers and artists who made the industry what it is today. The film opens with Jack Kirby's patriotic World War II-era icon Captain America. Kirby says 'What I was doing was putting my dreams down on paper.' EC Comics founder William M. Gaines of course had different sorts of dreams, which forced him to work around government censorship. The film abounds with terrific interviews with comic book icons like Will Eisner, Stan Lee, Harvey Pekar, Robert Crumb and more, with footage of their iconic works animated and set to rousing scores referential of their particular times. The best is Gaines, telling the story of his father folding up the Sunday funnies and selling them for a dime, essentially creating comic books as we know them. As great as the anecdotes are, what's even more stark is what isn't discussed, namely the great Brit writers of the 80's like Grant Morrison, Neil Gaiman and Alan Moore who forever changed comic book storytelling (Watchmen isn't mentioned at all). Also, the film was released in 1989, just before the comic bubble of the 90's nearly sunk the industry, but it still serves as a fine starting point for comic aficionados. Get crackin'.
Manny Casillas
½
There's been a lot happen in the comic book industry since 1989 but this is great resource material for fans (like me).
Randy Tippy
Super Reviewer
Comic Book Confidential Quotes
There are no approved quotes yet for this movie.
Discussion Forum
Discuss Comic Book Confidential on our Movie forum!