Committed
(1991)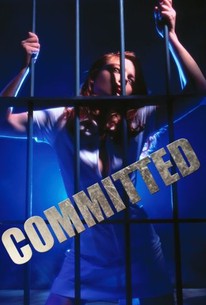 AUDIENCE SCORE
Critic Consensus: No consensus yet.
Movie Info
Accidentally committing herself to a mental institution instead of applying for a job, a nurse (Jennifer O'Neill) must face hellish treatment from workers and unstable patients to remain sane.
Rating:
R
Genre:
Directed By:
Written By:
On DVD:
Runtime:
Studio:
Worldwide
Critic Reviews for Committed
There are no critic reviews yet for Committed. Keep checking Rotten Tomatoes for updates!
Audience Reviews for Committed
½
If this film started Five minutes later then it did, then it might have been that much more interesting.
Jessica Harris
½
A psychodrama by Orion Pictures. Half way through this second rate production and wierd TV grade psycodrama we begin to ask, just who is who in this zoo? More importantly, why am I watching this sorry excuse for a movie? It took all I could do to continue watching, were it not for the lovely Jennifer O'Neill (Summer of 42, Scanners). You'll be committed too if you stick with this turkey. It might be a dark comedy that fails to be funny. The "committed" could be, after all, in control of The Institute. Ms. O'Neill in reality has had quite a remarkable life. She's been married no less than 9 times, 3 children by two marriages, discharged 'accidentally' a gun into herself, has fallen with injury during horserides and had a leading man die 'accidentally' during a television series production. But I digress. The supporting cast is not much support in this Institute of the insane. Which is to say the cast's acting is pretty uneven in their ability to act. Were it not for O'Neill playing the part of either a truely insane nurse or a sane nurse a victum of either criminal action or misfortune we cannot be for certain half way through the film. The head of security is your average tough guy with a scar and headband. The soundtrack a joke at times. Set in some remote rural area of the country, O'Neill believes herself on the way to an interview with a famous psychanalytical founder of, surprise, The Institute. In the beginning, a bit too melodramatic with gates clanging shut as our nurse, if she is really that, ends up signing one form in the interview. She is informed she is now a patient. From then on, we're not sure if she is truely a nurse or is humoured to be a nurse by the staff. We want to believe she is being held against her will. A Dr. Moore certainly behaves like he is not necessarily a part of the game being played out here. He has reservations about her being a patient. Strangely, our "nurse" eats dinner with the staff, not with the other patients, as if she is the staff nurse. The Institute has various guests (ie patients), as the Institute calls them, walking about the grounds in various costumes or make-up. Some say they are held against their will, as does our nurse. She has to wear a tight fitting nurse uniform which is uncomfortable to watch. She befriends some of the patients. One, named Ronnie, almost gets her a phone call to a relative. The rest of the film is about our "captive?" nurse trying to flee. A dreadful movie, a laughable melodrama or psychodrama and a waste of O'Neill's talents what little she has to demonstrate here. The really bizarre fact is that a 1994 book of reviews gave this a 3 out of 4 stars! I found this on Hulu.com if you want to check it out for yourself. You have to be committed to watch it.
monsieur rick
Committed Quotes
There are no approved quotes yet for this movie.
Discussion Forum
Discuss Committed on our Movie forum!