Commune
(2006)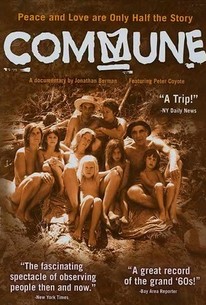 Movie Info
During the social upheaval of the early 1970s, utopian communities dotted the American landscape. They aimed to reshape the world with "free love" and common property, and they excited controversy and fear amongst local residents across the country. Premised on the idea of "Free Land for Free People," and financed by the largesse of Hollywood celebrities, the founders of Black Bear bought land deep in the wilderness and raised a rough-hewn homestead. Over the years, hundreds would join the community, and life would be complicated by conflicts about the role of women, child-rearing, proper communalist behavior, the FBI and, most traumatically, a child-snatching cult. Although the idea of communes is now often relegated to a naive past, "Commune" documents a successful and lasting, if controversial, legacy at the Black Bear Ranch--and provides a window on the social and economic forces that have fueled the resurgence in communal living. Although they now call themselves "intentional communities," which are often rooted in practical considerations as much as ideology, all kinds of groups--including eco-conscious grad students and forward-thinking retirees--now carry on the legacy of cooperative living.
News & Interviews for Commune
Critic Reviews for Commune
Audience Reviews for Commune
[font=Century Gothic]"Commune" is a satisfactory documentary about the Black Bear Ranch which was founded in 1968 by Richard and Elsa Marley as a secluded refuge in Siskiyou County, California where people could reject the competitive nature of society, be themselves and work together in peace. Despite the collective nature of the commune, what was needed here is a single voice to give a straightforward history of the ranch which is apparently still going strong today, thus avoiding being just another cliche of the 1960's. At the same time, there is too much emphasis on the present day activities of the founders(gee, that Peter Coyote guy certainly did well for himself...) who eventually left the commune to return to the outside world. Even though the documentary is not as deep as it could have been, there is testimony on how women contributed to the workforce and the improvised healthcare.("The Business of Being Born" made a better connection between the communes and the rise in natural childbirth.) So, there was definitely more going on here than the grainy amateur footage of liberated people running around naked would attest to.[/font]
Commune Quotes
There are no approved quotes yet for this movie.