Commune
(2006)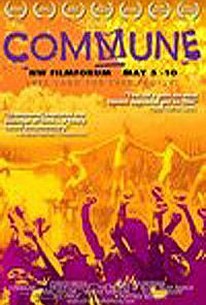 Movie Info
During the social upheaval of the early 1970s, utopian communities dotted the American landscape. They aimed to reshape the world with "free love" and common property, and they excited controversy and fear amongst local residents across the country. Premised on the idea of "Free Land for Free People," and financed by the largesse of Hollywood celebrities, the founders of Black Bear bought land deep in the wilderness and raised a rough-hewn homestead. Over the years, hundreds would join the community, and life would be complicated by conflicts about the role of women, child-rearing, proper communalist behavior, the FBI and, most traumatically, a child-snatching cult. Although the idea of communes is now often relegated to a naive past, "Commune" documents a successful and lasting, if controversial, legacy at the Black Bear Ranch--and provides a window on the social and economic forces that have fueled the resurgence in communal living. Although they now call themselves "intentional communities," which are often rooted in practical considerations as much as ideology, all kinds of groups--including eco-conscious grad students and forward-thinking retirees--now carry on the legacy of cooperative living.
Rating:
NR
Genre:
,
Directed By:
Written By:
In Theaters:
On DVD:
Runtime:
Studio:
News & Interviews for Commune
Critic Reviews for Commune
Audience Reviews for Commune
½
Well assembled and interesting. The big grin happens when they are raided and the fuzz confiscate all their *tomato* plants.
Dan Morris
½
COMMUNE did the trick for me, even though it also seriously disappointed. I've been waiting for a long time for a movie that suggests the scope of our amazing intentions and our earnest dedication to creating a new world, with little to guide us, no formal leadership, and little to support us in the effort. I am a veteran of urban collectives (Washington DC, San Francisco, Berkeley, Oakland), as opposed to rural communes such as the one memorialized in this film. The difference is profound, of course, but the similarities are also remarkable. It's impossible to describe to folks who "weren't there" how uniform our precepts were, across the country and between venues, and all of it decades before the Internet! This movie kicked up so many memories, observations, questions, thoughts, and new perspectives, that I can't adequately summarize my experience with it, and it isn't over yet. As for COMMUNE's one huge disappointment? I had been longing to hear actual dialogue from the day. What was preserved here is silent (and salacious) footage clearly taken by a male of the group (and all of us feminists were very aware that sexism was the biggest and oldest bear of 'em all). When you consider that all we did all day long in the urban counterpart "families" was "shoot the holy sh*t," -- constantly analyzing, with thesis, antithesis, synthesis, and all that jazz -- well, that's a very large gap, and a misrepresentation of what the movement -- as I experienced it -- was all about. If you want an idea of how we thought (and talked and spent our time and energy), listen to a few of the women who were quoted from the present day. There are still glimpses there of the language we used and traces of the earnestness
Barbara Henry
Peace and Love are Only Half the Story This was so informative and interesting (well, of course it was to me as I am into anything that has to do with the '60s & '70s. :P) This documentary was great because it had in-depth interviews with a lot of the people that lived at the Black Bear Ranch. What's even cooler is that the actor Peter Coyote grew up there and he talked a lot about how it was. Ah, the beautiful people just enjoying each other. :) That's what it's all about. It was very refreshing. I can totally picture myself living that way, or at least trying it out. I don't (yet) believe this world is so far gone that we can't have a place where people can live happily and free with one another. People, especially the ones my age, may think the '60s where so long ago, but I think the opposite. There's so much to be learned from the past generations and I plan to keep the hippie spirit alive. It's not long ago when you really think about it, humans are humans, no matter if it was 50 or 500 years ago. This movie demonstrates the positive and negative aspects of living at the commune. It has some awesome footage too. I recommend this to anyone who is curious about what living in a commune is like, especially one of the first seemingly successful ones. *Peace...
Nicole in Wonderland
Commune Quotes
There are no approved quotes yet for this movie.
Discussion Forum
Discuss Commune on our Movie forum!