Como Era Gostoso o Meu Francês (How Tasty Was My Little Frenchman)
(1971)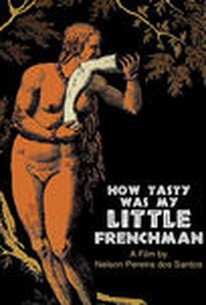 AUDIENCE SCORE
Critic Consensus: No consensus yet.
Movie Info
In 16th-century Brazil, indigenous people of all sorts far-outnumbered Europeans, and the natives had difficulty in sorting out the different varieties and politics of Europeans. Even though the Americas were divided up for colonization by the Pope himself, at this time the French tried to challenge the Portuguese for domination in Brazil. This film follows one Frenchman (Arduino Colessanti) who has been captured by a native tribe. He is not badly treated, and is even given a woman to sleep with. However, it is made very clear to him that he is being kept as a cherished item on the menu for an upcoming feast. Despite some successful efforts to postpone his fate, not least by being useful to the tribe, he is not able to avoid it. This Portuguese language film has extensive, though appropriate, nudity and some quite gruesome footage. ~ Clarke Fountain, Rovi
Rating:
NR
Genre:
, ,
Directed By:
Written By:
In Theaters:
On DVD:
Runtime:
Critic Reviews for Como Era Gostoso o Meu Francês (How Tasty Was My Little Frenchman)
All Critics (2) | Fresh (2) | Rotten (0) | DVD (2)
New York Times
Top Critic

Chicago Reader
Top Critic
Pereira dos Santos's notorious anti-establishment allegory is still a pungent meal.
Audience Reviews for Como Era Gostoso o Meu Francês (How Tasty Was My Little Frenchman)
86% "In this country no Governor, no Bishop or other authority could please God, Our Lord for the evil is much impregnated in the customs."-Father Nobrega
FilmGrinder Stone
½
NOT a 70's "cannibal horror" film, but a fascinating period piece about a 16th century Frenchman, captured by Brazilian natives who mistake him for one their (and his) Portuguese enemies. Very well done. Touches of humor, but feels almost like an ethnography. Attention to detail, to the point that most of the dialogue is in the native Tupi language. Well worth a look.
Paul Cardullo
½
How Tasty Was My Little Frenchman (1973) Come Era Gostoso O Meu Frances (1971) short film 80 minutes. Though this is not a documentary it seems like a documentary because of the harsh lighting and some what poor production values ( by todays standards). This is a film that Werner Herzog would have made in 1970. (was he making documentaries then?) Almost all of the dialogue in the film was written in the Tupi language. The actors and actresses who portrayed the Tupinambas wore historically correct attire resulting in a considerable amount of historically correct nudity and semi-nudity in ALL scenes. "How Tasty Was My Little Frenchman" is the first absolutely non-exploitative (not nonerotic) movie I have seen to require almost total nudity from its cast, both sexes. The primary point of the film is to show us the 16th century culture clash of Europeans and native South Americans but because this is a Brazilian film it's impossible to ignore any attendant political criticism of European colonial practices during that period of history (the film-makers should have taken a hearty bite out of the Spanish while they were at it) Excellent film and great look at a world that no longer exists. A Frenchman is captured by the Tupinambas Indians. They want to eat him but decide to keep him for a while and they also provide him with a wife. He adopts and joins their culture. The directors film Vidas Secas also is a wonderful unusual film. SEE MY Lists: I have 5 lists of foreign films submitted for Foreign Oscar best film (by year) I have new list of foriegn films submitted for best foreign film for 2009 (Feb 2010 Oscars) four stars. almost five stars. Fascinating film.
ld pierce
Discussion Forum
Discuss Como Era Gostoso o Meu Francês (How Tasty Was My Little Frenchman) on our Movie forum!