Company Business
(1991)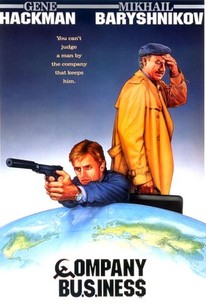 AUDIENCE SCORE
Critic Consensus: No consensus yet.
Movie Info
A former CIA agent turned private eye (Gene Hackman) is hired by the agency to escort a captured KGB agent (Mikhail Baryshnikov) back to his home in a prisoner-swap plan. Instead, the two lead both organizations on a wild goose hunt across Europe after they become friends.
Rating:
PG-13
Genre:
,
Directed By:
Written By:
In Theaters:
On DVD:
Runtime:
Studio:
MGM Home Entertainment
Critic Reviews for Company Business
There are no critic reviews yet for Company Business. Keep checking Rotten Tomatoes for updates!
Audience Reviews for Company Business
½
Good light-hearted spy action/ road buddy film. Always great Hackman ensures an entertaining time. Well worth watching family-friendly fun with great European scenery.
Melanie D'Angelo
(***): [img]http://images.rottentomatoes.com/images/user/icons/icon14.gif[/img] An entertaining thriller.
TTT C
A former agent of the Central intelligence Agency (Gene Hackman) is called back to duty for a prisoner exchange in Berlin, Germany, when he is told to escort a former KGB agent (Russian ballet star Mikhail Baryshnikov) for the exchange. Part of the exchange includes $2-million in drug money. At the exchange, which takes place in an abandoned, blocked off subway tunnel, something is wrong and gunfire is exchanged. Now, the two aged agents must go on an international search to find the truth of who was behind the assassination attempt, which may involve a combined effort of the CIA and KGB. This is a disappointing adventure film. The drama is pretty weak, and there is very weak adventure. There are even weak plot twists that are not too surprising. I also felt that there was little to no chemistry between Hackman and Baryshnikov. Out of the two lead actors, I felt that Baryshnikov gave the weakest performance. Baryshnikov was not believable as a former KGB agent, and he was just plain weak all around in the movie. Hackman's performance was not his best either. His performance, though slightly better than Baryshnikov's, was one-dimensional as was his character. In fact, the character development in this film was real weak in this film. I felt that there was no development with either lead character that made them interesting, and there was no development in those trying to stop them from finding out the truth. Another problem with this film is that it's dated. Because it takes place near the end of the Cold War, we get dated references to that time. Unless you are old enough to remember that time, you would be completely oblivious to any of the references mentioned in this film. There was nothing special with those trying to stop them in fact. And their performances lacked in just about everything to make them interesting. I really didn't care about who they were and why they were after the two leads. I also felt that the surprise plot twists pretty much flopped, and many things were pretty predictable. In one scene, when Baryshnikov's character finds Hackman's character at the Safe House in Berlin, they go across the street and Baryshnikov begins to shoot the doorbell, missing the first two times he fires. The third time's the charm, and the building explodes. You pretty much knew what was going to happen when Baryshnikov asks Hackman for his gun. And there is a little joke in their conversation where Hackman gives Baryshnikov his silencer so that the neighbors aren't woken up as the weapon is fired. That little silencer bit is the only little bit of humor I honestly can remember in the entire movie. If there were any zingers from anybody in this movie that was meant as a joke, I completely missed it. The music was pretty forgettable in the film. I think that there were only instrumentals in the entire film in fact. And we never see a hint of Baryshnikov's dancing background in this movie, which could have been used for a quick-witted one-liner from Hackman. According to some sites I read, Baryshnikov simply hated the finished product and refused to participate in the promotion of this movie. And I can't blame him. The movie is a weak effort on the part of the script writers and just about everybody else involved. If you want to waste time, then check this movie out on HBO or another movie channel on a rainy day when there is nothing better to do. But don't expect a good movie, because this one simply is not one.
Mickey Micklon
Discussion Forum
Discuss Company Business on our Movie forum!