Comrade X
(1940)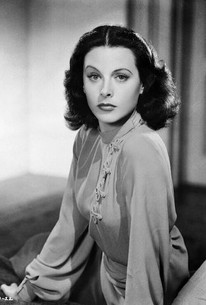 AUDIENCE SCORE
Critic Consensus: No consensus yet.
Movie Info
A half-hearted derivation of Ninotchka, Comrade X stars Clark Gable as an American news reporter stationed in Russia. Gable is actually the mysterious Comrade X, who has been smuggling provocative stories about the crumbling Soviet government out of the country. Threatened with exposure by a hotel porter (Felix Bressart), Gable agrees to help sneak the porter's beautiful daughter (Hedy Lamarr) out of Russia. The girl is a devout "old line" Communist, and thus is regarded as a potential counter-revolutionary by the paranoid Soviet leaders. Gable pretends to be a Communist himself to win Hedy's trust, inviting her to America to espouse her cause. He finds he can only secure her passport by marrying her, which leads to the anticipated complications. The Soviet higher-ups imprison Gable and Lamarr, sentencing them to death--but suddenly the counter-revolutionaries take charge of the government prison and arrest the arresters! The new man in charge (Sig Rumann) is Lamarr's political idol, but when he reveals himself to be vulnerable to blackmail and bribes, Lamarr becomes disillusioned by the Party Line and accompanies her new husband Gable to America. Filmed just before the "shifty" Communists were metamorphosed into brave freedom fighters by World War II-vintage filmmakers, Comrade X is of marginal historical value. Otherwise, it is an unfunny low point in the careers of Clark Gable and Hedy Lamarr.
Rating:
NR
Genre:
, ,
Directed By:
Written By:
In Theaters:
On DVD:
Runtime:
Studio:
MGM
Critic Reviews for Comrade X
All Critics (2) | Fresh (2) | Rotten (0)
Inspired by Garbo's Ninotchka (a much better film on any level) King Vidor's romantic melodrama is a serviceable star vehicle for Clark Gable as an American journalist and the beautiful Hedy Lamarr as a Soviet streetcar conductor.

Pre-WWII tale has great Gable and Lamarr pairing.

Dispatch-Tribune Newspapers
Audience Reviews for Comrade X
I thought it was a funny film. It shows the outrageous suspicions that all Russians had in the Soviet Union. I like how the sets look. I think it is a comedy, a mystery, and several other kinds of genre type of film which I am not sure I'm able to clearly identify. I thought it was a pretty great film. I would buy it. Clark Gabel did a very good job acting in this film.
STCENTERPRISE .
½
Most definitely a take off on Ninotchka from a year earlier, but it's not nearly as good. Still, it has it's charms and a terrific cast. The supporting players outshine the stars in this one
James Higgins
Comrade X (1940) Just before we got into World War II, Nazi Germany and the Soviet Union had signed a non-aggression pact. Mac Thompson (Clark Gable) is a foreign correspondent who has been sneaking out uncensored news out of Russia. The secret police are suspicious of him, but it's the hotel's valet, Igor Yahupitz (Felix Bressart) who knows that it's Mac. He tells Mac that if he can smuggle his daughter, Theodore (Hedy Lamarr) out of the Soviet Union, into America, he won't tell anybody. Of course Theodore is a loyal Communist and, just like in Ninotchka, Mac has got to convince her to leave her beloved country and go with him, all while trying to stay away from the Commissars. Of course all of the upper ranking Soviet officers are worried about being killed off in Stalin's Purge. King Vidor directed this fast-paced comedy with a screenplay written by Ben Hecht. Jane Wilson (smart-mouthed Eve Arden) is one of my favorite characters, also the Nazi correspondent Emil Von Hofer (Sig Ruman) is an easy target of ridicule.
Rick Rudge
Comrade X Quotes
There are no approved quotes yet for this movie.
Discussion Forum
Discuss Comrade X on our Movie forum!