Great Performances
(2003)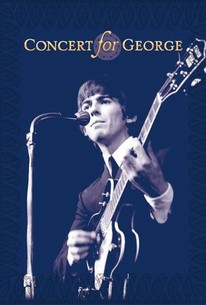 Movie Info
Both as a member of the Beatles and as a solo artist, George Harrison was one of the best loved and most influential musicians of his generation, and when he died November 29, 2001, after a long battle with cancer, it was a tremendous blow to the many great artists who were his friends and collaborators. A year to the day after his passing, a handful of pop music royalty who had known and worked with Harrison staged a special concert at London's Royal Albert Hall to play his music and honor his art and memory. Concert for George is a documentary which presents highlights from the Harrison memorial concert, featuring performances by Paul McCartney, Eric Clapton, Ringo Starr, Tom Petty and the Heartberakers, Jeff Lynne, Billy Preston, Jools Holland, Sam Brown, and Joe Brown. A portion of the profits from the film's release will be donated to The Material World Foundation, a charitable organization founded by Harrison.
Critic Reviews for Great Performances
Audience Reviews for Great Performances
Features terrific music with very deep commentary. If you are a fan of 70's rock music, then you will like this blend of classic tunes.
Alex Suszko
Concert For George is an amazing concert with brilliant music, great cinematography and is one of the better concerts ever held in my opinion. Held at the Albert Hall a year after George Harrison's death, Concert For George is the coming together of several performer friends of George performing George's greatest hits, favorite skits, and other work in this 2 and a half hour long concert. Some of performers include Joe Brown, Paul McCartney, Ringo Starr, Billy Preston, Tom Petty, Jeff Lynne, Monty Python and many others. This was just amazing. All of the performances were amazing, with some standout favorites including Paul McCartney's cover of "Something" on the ukelele, Billy Preston's performance of "My Sweet Lord", and Joe Brown's performance of "I'll See you in my Dreams". I really cannot find a negative about this concert nor anything more in praise. Okay, the only thing that prevents me from recommending this concert to everyone is the first segement, featuring a half an hour performance of Sitar music with chants all in Hindu. I know that many are put off by this kind of music so if you skip the Indian then this could be for everyone. (Real Rating: 100%)
Catherine Sumida
I sat captive audience to watch this in it's entirety. George has always been an icon to me. I've always felt a spiritual connection and special affinity towards him. This concert just reinvigorated and conjured up feelings of how much he is missed in this world. I laughed and cried almost simultaneously. A MUST see for anyone that like myself, have infused the Beatles into my daily existence.
Michelle Shafran
Great Performances Quotes
There are no approved quotes yet for this movie.
Discussion Forum
Discuss Great Performances on our Movie forum!