Concussion
(2013)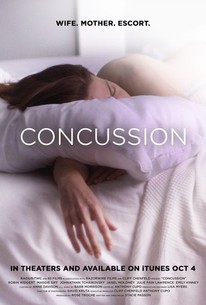 TOMATOMETER
AUDIENCE SCORE
Critic Consensus: Smart, nuanced, and sexy, Concussion transcends its more awkward moments thanks to Robin Weigert's remarkable starring performance.
Movie Info
Written and directed by Stacie Passon in an auspicious directing debut effort, and produced by Rose Troche, CONCUSSION is a poignant sexual examination of Abby (Robin Weigert in a star making breakout turn), a forty something married wealthy, lesbian housewife who, after suffering a blow to the head from getting smacked by her son's baseball-walks around every corner of her suburban life to confront a mounting desire for something else. She takes on a new project and purchases a pied-à-terre in Manhattan. Walking around the city streets reminds Abby what it feels like to be sexy, and her pent-up libido shakes off its inhibitions. Her newfound desire though is not a take-home item, so Abby inaugurates a double life as a high end escort. Palpably sensual and deliciously contained, CONCUSSION is a keen observation of the complicated contours of midlife crisis. (c) Radius
Rating:
R (for strong sexual content and some language)
Genre:
Directed By:
Written By:
In Theaters:
On DVD:
Runtime:
Studio:
News & Interviews for Concussion
Critic Reviews for Concussion
Audience Reviews for Concussion
I sat through ten minutes or so of this and turned it off. I don't mind a movie being slow-moving if the characters are interesting or there's something important being said, but none of that was happening here.
Amanda Hendsbee
½
Surprisingly poignant, executed well, and maturely conveyed, Concussion is a surprising film. The film follows the exploits of a married lesbian woman who gets in to prostitution, for complicated reasons. Such a plot line sounds like a good example for a simple exploit film or one-note gimmick, but in Concussion, it is taken to a serious conclusion. The most surprising aspect of the film is, without question, the performance by Robin Weigert. She inhibits her character with a grounded presence. She's charming, honest, curious, and hopelessly restless. The film's success hinges entirely on this performance, and fortunately, it works. She brings a complexity to the role that underscores the journey of her character, and represents a character that we can't help but like. Her arc feels organic to the story, and is written well. We see the events as felt of Weigert's character, with the film refusing to give easy resolutions or obvious emotional beats. The film's failures lie in the other characters of the film. Weigert's role aside, the other characters are not developed. We never truly understand their relationship with Robin, and the dynamics between them are never fully explored, and never seem to resonate on as deep of a level as one would like. Simply put, we lose emotional context for much of what happens, making the ending feel disjointed and oddly ineffective. An overall solid film, especially for Weigert's performance, but with supporting cast flaws. 3.5/5 Stars
Jeffrey Meyers
Super Reviewer
One line summary: Entitled lesbian tries prostitution to fix her emotional constipation. ---------------------- Abby gets a baseball to the head; hence the title. At age 42, this event, plus general mid-life crisis, seems like a reason to change up her life significantly. She provisions a new apartment that she shares (non-overlapping time slots) with Justin. She finds that his girlfriend is paying for college by arranging prostitutes for lesbians. Abby tries a prostitute arranged through the girlfriend. The prostitute has good things to say about Abby; after several talks with Justin, he agrees to help get her clients. Not unexpectedly, some of the client matchups work out well, others not. After a time, she cuts out Justin and works with his girlfriend directly. Clients come and go. Since her relationship with Justin has deteriorated somewhat, she and Justin decide to sell it. At the end of the day, does her choice of activities make anything better? Is anything cleared up? Is there any resolution that arises? -------Scores------- Cinematography: 10/10 Beautiful. Sound: 9/10 No particular problems. Acting: 5/10 There are lots of head shots of entitled people who are ever so satisfied with themselves. This endless, pointless, distracting stream of body English rather defeats attempts at acting in this muddy vanity film by a first-time auteur. The lead, Robin Weigert, was the worst. Screenplay: 4/10 Oi, tiresome. Lots of kvetching, PC rants, and people who cannot connect with themselves. The kvetching and the rants come from the self-loathing. Does this emotional constipation ever get unblocked? No.
Ed Collins
Concussion Quotes
There are no approved quotes yet for this movie.
Discussion Forum
Discuss Concussion on our Movie forum!