Confessions of an Opium Eater
(1962)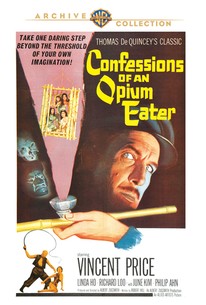 AUDIENCE SCORE
Critic Consensus: No consensus yet.
Confessions of an Opium Eater Photos
Movie Info
Very freely based upon the book by Thomas DeQuincey, Confessions of an Opium Eater is set in San Francisco during the Tong Wars of the 1800s. Lotus is one of a group of women kidnapped from China and brought to the United States, where they are to be traded in exchange for precious opium. Fortunately, Lotus and her compatriots are rescued by mysterious benefactors and are spirited away. Soon after, DeQuincey sneaks into Chinatown and contacts a merchant by the name of Chin Foon. Both men share the mark of the Moon Serpent, signifying that they work for the enigmatic Ling Tang, who is the mastermind behind the human auctions. Foon instructs DeQuincey to locate Lotus. He finds her but tries to escape with her, rather than handing her over to Foon. His treachery is discovered, and he admits that he is working for both sides in the Tong conflict. He escapes and, stumbling through the bowels of Chinatown, discovers many other bizarre secrets. He also learns that another of Tang's employees, Ruby Low, is not as loyal as supposed. DeQuincey continues prowling around Chinatown; obviously, he has some sort of plan in mind - but what is it? And who is he really working for?
Rating:
NR
Genre:
, ,
Directed By:
Written By:
In Theaters:
On DVD:
Runtime:
Studio:
Allied Artists
Critic Reviews for Confessions of an Opium Eater
All Critics (3) | Fresh (3) | Rotten (0)

Ozus' World Movie Reviews
(The) distributor's alternate title SOULS FOR SALE...advertises the film's sinister proceedings right from the opening credits

Puts to shame anything posing as serious philosophical thought in the Matrix films.

Audience Reviews for Confessions of an Opium Eater
The only similarity this bears to De Quincy's "Confessions Of An English Opium Eater" is that both characters have the name Thomas De Quincy. The novel is an autobiography of the effects on opium on one man's life, while the film is a Vincent Price lead "Lady From Shanghai" like twisting film noir. Price's De Quincy is a sailor whose voice over comes as a Chandler meets De Quincy poetry, and comes to San Francisco after a long stay in "the orient", where he involves himself in the dubious world of human trafficking, particularly brides in China Town. The film opens with a brutal scene involving screaming women thrown in net like freshly caught tuna, and then a violent battle between two gangs on the beach as they try to deliver the kidnapped women to their fate. Albert Zugsmith produced classics like "The Incredible Shrinking Man", "Written On The Wind", and "Touch Of Evil", along with directing many exploitation flicks, which this film veers into from time to time. It is more in the Siejun Suzuki brand of wildly inventive, free wheeling pulpy expressionism, than Ed Wood ineptness fortunately. Despite the title the only scene involving opium is when Price takes some in order to get close to the women trafficking ring, and has a particularly impressive Lynchian circa Elephant-Man hallucination scene (which is worth price of admission alone), however the best scene comes when Price wakes up surrounded by guards and has to make a slow motion(cus he's high on opium) dash out of the den, and to the rooftops of china town. The scene is is also completely silent, and trully marvelous in it's execution. I know slow motion action sequences where Greogiran chanting plays over sweat glistened A-listers shooting each other in mid air, but in Zugsmith's hands it's like seeing it for the first time. The plot is not particularly strong (why De Quincy is saving the girl, or what he is doing in China town at all, has many twists and turns, and leaves some gaps to be filled), but the direction, the suspense, and especially Price's performance make lines that would sound preposterous almost Terrance Malick like in their stream of consciousness, sound as if he says them everyday. Such are the gifts of Price. I had was very pleased with this movie, that can be found easily on Youtube, though you might want to get a good copy to take in the fullness of Zugsmith's frames. There is a dreaminess and nightmarishness to all of the scenes, like Opium was poured over a script to a lesser film, and this movie stumbled out of a smoke ridden room, singing of dancing girls emerging from cages, being swept to sea from sewer drains, and teetering on the edge of rooftops with vertigo at a snails pace, crashing through windows, and feeling "the abbacus of fate has your number". Good times.
Joseph Sylvers
Confessions of an Opium Eater Quotes
There are no approved quotes yet for this movie.