Connected: An Autoblogography About Love, Death & Technology
(2011)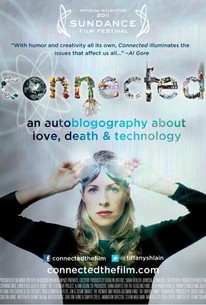 Connected: An Autoblogography About Love, Death & Technology Videos
Connected: An Autoblogography About Love, Death & Technology Photos
Movie Info
With wonderful heart and an impressive sense of scale, Tiffany Shlain's vibrant and insightful documentary, Connected, explores the visible and invisible connections linking major issues of our time-the environment, consumption, population growth, technology, human rights, the global economy-while searching for her place in the world during a transformative time in her life. Employing a splendidly imaginative combination of animation and archival footage, plus several surprises, Shlain constructs a chronological tour of Western modernization through the work of her late father, Leonard Shlain, a surgeon and best-selling author of Art and Physics and The Alphabet Versus the Goddess. With humor and irony, the Shlain family life merges with philosophy to create both a personal portrait and a proposal for ways we can move forward as a civilization. Connected illuminates the beauty and tragedy...
Rating:
PG
Genre:
,
Directed By:
Written By:
In Theaters:
On DVD:
Runtime:
Studio:
Cast
Critic Reviews for Connected: An Autoblogography About Love, Death & Technology
Audience Reviews for Connected: An Autoblogography About Love, Death & Technology
Connected is essential viewing for anyone who participates in, thinks about, and perhaps has some concerns about how we as humans connect with each other in this digital age. Tiffany Shlain is probably one of our most important filmmakers today - pushing the bounderies of communication and all of its implications. This film is not only a consideration of how we relate to each other as human beings in the digital age - but as importantly - how those connections - and the way that we connect affect us both positively and at times negatively. How are we transforming as a human race with our digital appendages? How can we retain what is human about us? How wonderful it is that we can connect with people across the planet in ways never dreamed of - but also what is the price of that digital connection. As a parent - this is a must - and a must to watch with your children - and gift and share with your friends and family. It should be required viewing in middle school - and should be required viewing for you.
Jon Reiss
Every once in awhile you see a film that, long after the credits have rolled, leaves a smile on your face every time you think of it. Connected is that film. Equal parts funny, insightful, and inspiring, the film traces the contours of what it means to be human in an age where texting, twitter, and time with those we value most all vie for our attention. Who or what wins? With more laughs than I expected and a couple more tears than I would care to admit, the film encourages you to find your own answers. Bravo!
Chester Saddlemeyer
Just as the NY Times review says, "Examining everything from the Big Bang to twitter...incredibly engaging!" I couldn't sum it up better! I saw this at a film festival and it's a must-see emotionally-charged documentary giving pause for thought on so many profound topics long after you see it. I highly recommend the film & that you watch with others so you can have an engaging post-screening discussion about what it means to be connected as humans, to our environment, to technology and most importantly to the people we care about most! I saw in my FB news feed from the Connectedfilm FB page that the film is coming out on iTunes on Feb 5. So I went to iTunes and it now allows you to pre-order it which is great. Can't wait to see it again!
S Nelson
Discussion Forum
Discuss Connected: An Autoblogography About Love, Death & Technology on our Movie forum!
News & Features