Consignment
(2007)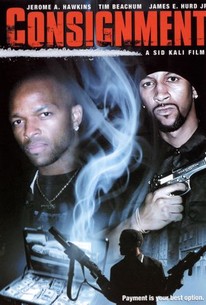 AUDIENCE SCORE
Critic Consensus: No consensus yet.
Movie Info
A reluctant drug dealer looking to get a fresh start in life finds himself instead getting in deep over his head in this fact-based crime drama from director Sid Kali. Tommy Jones slings dope on the East Coast as a means of making some quick cash, but when a rival kingpin attempts to have him ripped off and rubbed out, Tommy and his wife Yolanda are forced to flee for California. Once there, the desperate drug dealer quickly goes to work for his ill-tempered, drug-dealing cousin. The situation quickly begins to unravel, however, when Tommy is forced to take a shipment of crystal meth on consignment from a volatile Latino gangster, and a secret from his wife's past threatens to follow the desperate couple far across state lines.
Critic Reviews for Consignment
There are no critic reviews yet for Consignment. Keep checking Rotten Tomatoes for updates!
Audience Reviews for Consignment
½
Mr. Skin's Consignment movie review is all I needed to rent it. I was not disappointed at all. Consignment is full of violence and nudity. Type of movie you do not take home to mama. There is a striptease that does not push the envelope for hotness it rips it to pieces. Booty shake part was delicious looking. I liked it a lot. A whole hell of a lot. Good bit of violence to boot. Most gangster movies that fall in this class are pure shart. I came from the nudity and stayed for the movie. Rock on Consignment. Rock on. :up:
Tomas Ryno
[left]When I pulled consignment off the shelf it looked iffy to me. When I read the plot was about Tommy Jones money-making drug dealer it made me chuckle. How more lame of a phrase is that??? I only it rented to see how bad it would be. I was completely wrong. Most times DVD covers are misleading making a awful movies look worth watching. Opposite with consignment. The DVD cover misled me to believe this movie was iffy to watch when the movie was much better than packaging showed. Do not always judge a DVD by what you see or read on a cover. Tommy Jones is a drug dealer from Virginia Beach that suffers from panic attacks caused by his line of work. Tommy's boss unsuccessfully tries to have him killed by Panamanian and African-American gunmen. Tommy flees to Southern Cal with his wife. Shortly after arriving he takes up with his hot tempered criminal cousin Carmelo. The situation goes from bad to worse after Carmelo executes a motorcycle gang member and corrupt cop. Tommy's new plan is to relocate to Canada with wife and cousin when he has enough money. Tommy starts to make money selling drugs he buys off a Mexican gang member that knows his wife. Tommy is to good at what he does because he and the Mexican gang member are making money fast brining in a more powerful Mexican drug dealer that makes Tommy take his drugs on consignment. The Mexican drug dealer forces Tommy in to a drug debt. Then a perfect storm happens. A secret his wife has is exposed...a drug war breaks out that pulls Tommy in deeper...his boss back in Virginia Beach wants to hurt every one he loves before finally killing him. There is nothing flashy about this movie. Story was excellent going emotionally deeper than expected. I cheered for Tommy Jones. Most actors were pretty good even though none have been in any other movie I've seen. Best were Tim Beachum who seemed believable as anxious drug dealer Tommy Jones...Jerome Hawkins made me hate Carmelo. That means he did his job. Carmelo was not a likable character in any way. Consignment went overboard on 2 parts that seemed out of place in the movie. Asian drug addict with fully exposed breasts simulates oral sex on Carmelo for drugs. What was the point??? To not be out done later on a drug dealers mistress decides GEE why don't I strip shaking my butt for no reason??? I wish movies like this would stop feeling they have to show T & A to sell. This movie didn't need those gimmicks. [/left]
Jim Sikes
Consignment Quotes
There are no approved quotes yet for this movie.