Consuming Passions
(1988)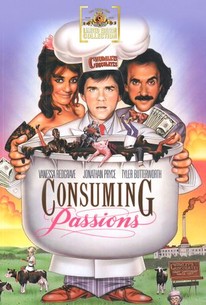 AUDIENCE SCORE
Critic Consensus: No consensus yet.
Consuming Passions Videos
Consuming Passions Photos
Movie Info
A British production created by Monty Python alumni, this film concerns an inept chocolate-factory executive (Tyler Butterworth) who accidentally knocks three workers into a vat. The product is an incredible hit with consumers, though one of the workers' widows (Vanessa Redgrave) is considering blackmail.
Critic Reviews for Consuming Passions
There are no critic reviews yet for Consuming Passions. Keep checking Rotten Tomatoes for updates!
Audience Reviews for Consuming Passions
The Next Logical Step From Crunchy Frog Weekend movies are an adventure. Unless Graham and I go see something in the theatre, there is generally an attempt on my part to find something we can watch together at home. (And he's started taking a day or two of vacation every month, which doesn't help.) Now, we have movies we own but haven't watched just yet. Plenty of them. On the other hand, a lot of those are movies he isn't interested in. We have different tastes, he and I, and while there are plenty of movies we'll watch together, it's true that there are even more we won't. Sometimes, library movies fill the gap. Sometimes, Netflix. He's really glad to have invested in a pair of headphones, so he listens to things without me a lot. But it's always nice when we find something we can at least sort of watch on cold, rainy Sunday evenings. Ian Littleton (Tyler Butterworth) has just gotten a job as a management trainee at Chumley Chocolates. Thing is, Chumley has just been taken over by a conglomerate, and the factory is nearly totally automated. They aren't putting chocolate in the chocolates anymore, either. Ian goes into the factory to tell a group of workers that they've dropped the keys to their van, and he manages to dump them into the vat. The system is somehow so powerful that, within scant seconds, there's nothing left but eight hundred boxes of human-flavoured chocolates. Ian, Graham Chumley (Freddie Jones), and Mr. Farris (Jonathan Pryce) are unable to get them back. On the other hand, the town the chocolates were sent to is the only one in all of England where the chocolate wasn't universally reviled. The crunchy frog reference is not idle. The movie is based on a play by Michael Palin and Terry Jones. Or, based on Wikipedia, a television play which is essentially lost. (They have somebody's VHS copy, but the original was wiped on the grounds that people thought it was maybe in poor taste.) The movie itself was written by Paul D. Zimmerman and Andrew Davies, who I think deserve to have that mentioned a bit. It must be extremely difficult to work with or adapt things by the famous, especially when the famous are still alive. Davies adapts things for a living, but you know, Thackeray isn't exactly tearing up the charts these days. What's more, Thackeray isn't upstaging Davies' screenplay of [i]Vanity Fair[/i] with his newest project. If Palin and Jones had written this screenplay, it probably would have had more than a limited release, and I imagine Zimmerman and Davies knew that. Really, I think the one-hour version was probably better not because of its writers but because it was shorter. The movie gets a little bogged down with a romantic subplot. (Yes, Joel, it's true that only love can pad the film! Or, no, but it's true that they're more inclined to use love than anything else.) Ian gets involved with the girl in the quality control department--or, really, the quality control department--and the widow of one of the first guys to get put in the chocolate. I do think the battle between the old-fashioned chocolatier and the modern businessman is a worthwhile addendum to the story, and I wish it had been developed at the expense of the love story, or else that the girlfriend (I think Felicity, played by Sammi Davis) had been better integrated into that subplot. It felt a little scattered the way it was. Anyway, this movie kind of confirms Alton Brown's point that the word "chocolate" is better legislated in the US than Europe. It's not that US inspectors would notice right away that there was people mixed into the chocolate, though What's-Her-Name manages to do it pretty quickly herself. It's that the original "new formula," not Soylent Chocolate, wouldn't have been allowed to be marketed as chocolate in the United States. Legally, white chocolate can't even by called chocolate. (Cocoa butter, yes; cocoa solids, no.) [i]And[/i] it has to have 20% cocoa butter before it can be called white chocolate! Mr. Farris announces with great pride that there isn't a scrap of real chocolate left in the formula. Using fats and things is cheaper, and if no one wants to buy the stuff, clearly, the fault is in the marketing, not in the formula.
Edith Nelson
I suppose this is so lowly rating due to some, er, unsavory topic matter. For those with a more twisted sense of humor, though, this is more than welcome. Not to mention brilliant British humor. Cross Charlie & The Chocolate Factory with Monty Python and you've got a decent idea what is here.
Jacob Gehman
Consuming Passions Quotes
There are no approved quotes yet for this movie.
Discussion Forum
Discuss Consuming Passions on our Movie forum!