Container
(2006)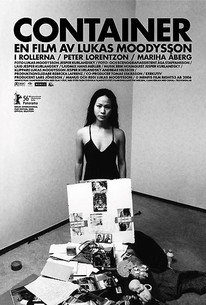 AUDIENCE SCORE
Critic Consensus: No consensus yet.
Movie Info
With his 74-minute feature Container, Swedish avant-garde filmmaker Lucas Moodysson plunges, headfirst, into a surrealistic dreamscape and offers a sharp critique of contemporary society. In crafting this motion picture, the director pulls the audience into a different cinematic mindset - a stream of consciousness mode of storytelling, where he floods the viewer with everything at once - "relevant and irrelevant" - in lieu of a more conventional, linear narrative mode. Shot in patchy, grainy, high-contrast black-and-white, the film follows an obese man as he carries an Asian woman, piggyback, through a garbage-filled landscape. Meanwhile, an American actress (Jena Malone) narrates a series of free-association thoughts and voices a number of characters on the soundtrack, drifting languidly (in the Pynchonian sense) in and out of coherence - her observations laden with references to pop culture, spirituality, and consumerism. ~ Nathan Southern, Rovi
Rating:
NR
Genre:
, ,
Directed By:
Written By:
In Theaters:
Runtime:
Critic Reviews for Container
All Critics (3) | Top Critics (1) | Fresh (3) | Rotten (0)
Moodysson definitely created something haunting; imperfect and nonsensical as it may be at times. Is it pretentious? You bet. Is that a bad thing? Not at all.

Audience Reviews for Container
If someone were to tell me this was the worst film they had ever seen I would'nt argue too much with them. I was pretty absorbed from begnning to end. It doesnt really go anywhere fascinating or do anyting suprising, but the mix of images and sounds does create something poetic and special. If Tarkovsky and Harmony Korine collaborated it would look like this. A strange mix of gender confusion, pop culture disgust and fascination, along a road of consumer emptiness and the need for spiritual fullfilment. My first Lukas Moodysson experience and I wasnt sure what to expect from the Swedish realist director who wiki describes as "an outspoken left wing socialist, feminist, and vegetarian and at the same time a profoundly spiritual Christian." This stream of consciousness movie where the only sound is from a young girls voice almost whispering while an overwieght man and a thin Asian women who seem to represent the same person (when one is not carrying the other on their back "Fando Y Lis" style) is not endearing, entertaining, or profound. I watched it all, and I felt like it was an honest look at the modern world, if a despairingly cliche one at times. If your curious it's on Youtube. I'm just not sure.
Joseph Sylvers
Container Quotes
There are no approved quotes yet for this movie.
Discussion Forum
Discuss Container on our Movie forum!