Continental, un Film Sans Fusil (Continental, a Film Without Guns)
(2007)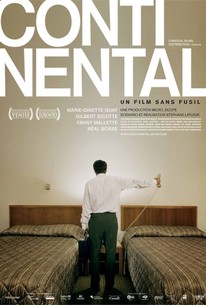 AUDIENCE SCORE
Critic Consensus: No consensus yet.
Movie Info
First-time Canadian helmer Stephane Lafleur's offbeat French-language comedy-drama Continental, un film sans fusil (AKA Continental: A Film Without Guns) 2007) commences with a bizarre event: a man who falls asleep on a bus awakens to find the vehicle suddenly vacant, hears unidentifiable sounds emanating from a nearby forest, and treks off to investigate. Lafleur then proceeds to crisscross several stories, concerning idiosyncratic characters who are both acquainted with the vanished gentleman and have no discernible connection to him. In one, the man's wife feels torn violently between accepting his disappearance and accepting the idea that he may never again turn up; at a complete loss to make this call, she opts instead to visit a ballroom and do the continental of the title. In another, a young insurance salesman (Real Bosse) spends the evening in a hotel and finds himself listening intently to a woman and her partner who make love in a nearby room - until the lady crops up and asks the salesman to visit the room and watch. In a third, a butterfingered young executive assistant (Fanny Mallette) at a packed bridal shower accepts an offer to hold a woman's baby - but drops it, to everyone's horror; and in a fourth, a pawn shop worker (Bernard Sicotte) with a serious dental problem begs his ex-wife for the money necessary to have the procedure - and proceeds to whittle it away on gambling bids. ~ Nathan Southern, Rovi
Critic Reviews for Continental, un Film Sans Fusil (Continental, a Film Without Guns)
All Critics (1) | Fresh (1) | Rotten (0)
Continental: A Film Without Guns is beautiful in a way that you didn't expect. Much like life, it may appear to be random, but there are patterns, curiosities and ultimately meaning.
Audience Reviews for Continental, un Film Sans Fusil (Continental, a Film Without Guns)
Beautiful, important filmmaking. Continental is the kind of unflinching look on an issue completely universal (loneliness) that finds a way to render what's gloomy and empty exquisitely mysterious. Not all of the stories presented are directly linked to the missing man sequence that opens the film, but they all feel very much connected, bringing out bleak humor and disturbing pathos in equal doses. Lafleur's directorial approach is not for everyone-- despite the critical acclaim, it is very unsurprising the some of the moviegoing public has been bored to tears by the massive non-happenings that chain together the film. But, to me, Continental is far more than the sum of its parts, and with superbly subtle performances, very quiet music and a string of both heartbreaking & embarassing moments, it's one of the best films to grace the silver screen in Quebec for years.
Laurence Collin
Super Reviewer
Continental, un Film Sans Fusil (Continental, a Film Without Guns) Quotes
There are no approved quotes yet for this movie.