Contract Killers
(2008)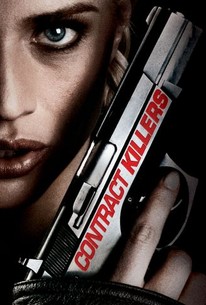 AUDIENCE SCORE
Critic Consensus: No consensus yet.
Movie Info
Desperate to live a "normal" life after functioning for years as a contract killer for the CIA, a female assassin learns that this is one job that she can't just walk away from when "the system" frames her for the murder of the person she loves most. Accused of killing her husband and hunted by the very people she once worked for, the trained assassin hatches a plan to hit back where it hurts most and prove her innocence in the process.
Critic Reviews for Contract Killers
All Critics (1) | Fresh (0) | Rotten (1)
There's no cool, breezy Mr. & Mrs. Smith-type snappishness here, and the film isn't briskly shot or slickly constructed enough to stack up with any of the Bourne films, a wayward spy series that it clearly wants to emulate. Terrible dialogue

Audience Reviews for Contract Killers
Feels like they're trying to copy the bourne series. Not all that successful at it. Overall decent movie and good to kill an hour an a half.
David Gonzalez
This movie is full of zero plot, average action scenes, poorly done camera angles, filler and a bitch protagonist who could care less about getting revenge for her husband's death. This movie is very low in terms of entertainment value and redeemable quality, skip it. 1/10
Peter Robbins
½
If Bourne is the standard by which we are to measure espionage movies, and particularly the innocent-agency-assassin-seeking-to-clear-his-name-while-running-from-the-agency-and-dodging-armies-of-other-assassins, then Contract Killers is a must see. It has high production values, a credible script, and great camera work. Justin Rhodes, at age 27 or 28, wrote, directed, and edited this little gem, and as they say, that ain't hay. Is the film derivative? Only inasmuch as it belongs to a recognizable genre. Spy gets into predicament, spy runs, bad guys and cops run after her, sometimes they catch her, and then she has to get out of her new-fangled predicament: the way in which each feat is accomplished is what gives the film high marks. The film also gives nods to the triple-detente situations of the John Woo/Quentin Tarantino schools of film-making. While it obviously did not get picked up for distribution, Contract Killers did make it onto the Netflix instant watch list, and was certainly a worthwhile way to spend an hour and a half. disclaimers: I do not know anyone involved in the production, nor have they paid me for a favorable review. Also, if you like the wronged-spy vs. nefarious agency type of film, check out Hopscotch from the late 70's with Walter Matthau and a very young Sam Watterson.
andrew bruch
Contract Killers Quotes
There are no approved quotes yet for this movie.
Discussion Forum
Discuss Contract Killers on our Movie forum!