Conversation Piece (Gruppo di famiglia in un interno)
(1974)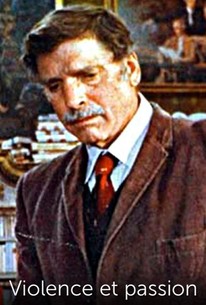 Conversation Piece (Gruppo di famiglia in un interno) Photos
Movie Info
An introverted American professor (Burt Lancaster) has retired to an Italian house, but finds his life interrupted when a decadent family moves upstairs.
Critic Reviews for Conversation Piece (Gruppo di famiglia in un interno)
Audience Reviews for Conversation Piece (Gruppo di famiglia in un interno)
In "Conversation Piece," Bianca(Silvana Mangano) barges into the Rome apartment of a retired professor(Burt Lancaster), an art historian. Mistakenly, he assumes she has something to do with the painting he is interested in buying and is unpleasantly surprised when he finds out that it is instead his upstairs apartment that she is interested in renting for her paid lover Konrad(Helmut Berger), a former radical. The Professor intends to use it as an expansion for his library but as she astutely puts it, he has more than enough room for his books already in the service area of his apartment.(Did I mention that apparently she does not have a tape measure?) Despite Bianca missing her calling as a used car salesperson, he declines. But when Lietta(Claudia Marsani), her daughter, offers the painting he was originally interested in for three months' rent, he agrees to rent it for a year. And then the sky falls in. Director by Luchino Visconti, "Conversation Piece" is a very engaging, witty and intelligent movie about what it means to truly live. The Professor moved from the United States to experience the Italy of his youth which he dreams of, not the conflicted one of the present. So he keeps it at bay, buying a complex system of locks for his front door after it closes in on him. There is nothing wrong with that, by the way, as the movie, despite not moving outside of the building, does not feel claustrophobic or stagy in the least. The Professor could presumably venture outside. As Lietta points out, he is not dead yet.(I also thought he might be gay, not asexual.) "Conversation Piece," like the real world, is very unpredictable. What I assumed would be a simple clash of cultures and generations becomes rather fascinating when the characters start to interact in some very intriguing ways. The other thing about the real world is that it is full of compromises which Konrad is more than aware of; he once believed in something very strongly, but is now forced to demean himself.
Conversation Piece (Gruppo di famiglia in un interno) Quotes
There are no approved quotes yet for this movie.