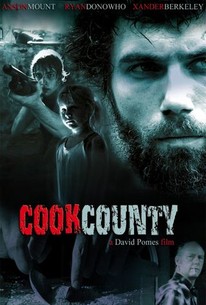 Cook County
2009, Drama, 1h 33m
13 Reviews
250+ Ratings
Rate And Review
Movie Info
A family struggles to overcome drug abuse.
News & Interviews for Cook County
Audience Reviews for Cook County
In "Cook County," Bump(Anson Mount) spends most of his days either cooking meth or consuming it with what he would loosely call friends. He employs his teenaged nephew Abe(Ryan Donowho) to run errands while Bump's infant daughter Deandra(Makenna Fitszimmons) runs free on the property. After two and a half years, Bump's brother Sonny(Xander Berkeley) is released from prison but has to turn down his brother's offer of drugs due to his peeing in a cup for his parole officer who also wants to make sure his charge gets an honest job. The strength of "Cook County" comes from its performances which are so lived in that they positively reek which is a compliment, by the way. If it had stopped there, this still might have been worth a recommendation but there is also a great sequence of crosscutting between two very disparate households that is the movie in a microcosm. The whole purpose of which is to show the dangers and decay of drug use without being preachy. At the same time, considering how bad the adults are(Sonny has some perspective but not quite enough), one wonders what hope there is for the children in this harrowing world.

"Sick and disturbing. Those are the two words that I was left with after seeing this movie. The things that Bump does in this film made me absolutely sick. Its like a train wreck, you don't want to watch, but you can't seem to look away. I had a hard time with one scene in particular. I won't give it away, but I'm sure if you see the movie, you might guess which scene that was. I would like to think that these things are far from how it is with real drug addicts, but it's not. Those who have been around this kind of scene will know that it doesn't trail too far from being absolutely true to the behavior of someone who's addicted to methamphetamine. It's sad. See it if you want. I know I won't be watching it agian. Once was enough for me."
See Details