Cookers
(2001)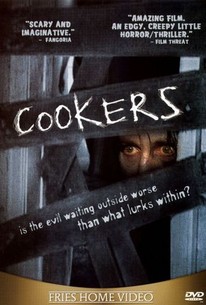 AUDIENCE SCORE
Critic Consensus: No consensus yet.
Movie Info
Speed kills, but not as fast as malevolent ghosts, in this edgy horror/suspense opus. Thuggish Hector (Brad Hunt) and his girlfriend Dorena (Cyia Batten) are a pair of low-level drug dealers who are looking for a big score that will allow them to get out of the business. Hector has noticed that there's a big demand among his customers for "crystal meth," a powerful amphetamine; Dorena has learned how to make the stuff, so the couple steal the ingredients for a massive supply of crystal, and go into partnership with Hector's friend Merle (Patrick McGaw), who has found a big old house in the woods where they can "cook" and avoid the prying eyes of the police. Dorena decides it's prudent to make up all the crystal in one marathon cooking session, so she gets to work and Hector stands watch, using their own product when their energies begin to flag. However, Merle happens to mention a local legend that the house where they're cooking is haunted, and after several days of speed-fueled sleeplessness, Hector and Dorena aren't sure if they're hallucinating, or if there really are evil spirits ready to do them in. Cookers marked the feature film debut for director Dan Mintz.
Critic Reviews for Cookers
There are no critic reviews yet for Cookers. Keep checking Rotten Tomatoes for updates!
Audience Reviews for Cookers
THIS HAS SPOILERS, BUT NOTHING THAT YOU CAN?T FIGURE OUT IF YOU READ THE DESCRIPTIONS OF THE MOVIE OR A BRAIN. I just decided to watch this movie on a whim. I guess Breaking Bad has spoiled me into thinking some people who want to use Meth as a subject might know what they're doing. I couldn't make it through the first 40 minutes. There was nothing of any real interest happening in that time. It turned me off and I missed out on what must have been good info for the ending, which I still think wasn't fully explained. And the interplay between actors was stiff. Even with the low production values, it still just stuck with the corny visuals and offered nothing really creative. You can pass on this one.
Lee B
If you don't like low budget movies...don't watch this. If you want to watch a good crappy movie about three people at a make-shift meth lab in the middle of the woods...watch it. I loved this movie.
Sherri Skurkis
Very boring, not much action. It is advertised as a horror movie and its not even frightening. I am greatly dissapointed!
Cody Hein
Cookers Quotes
There are no approved quotes yet for this movie.
Discussion Forum
Discuss Cookers on our Movie forum!