The Cookout
(2004)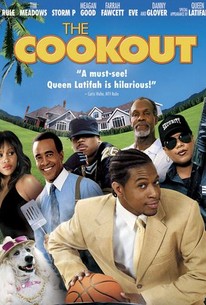 Movie Info
When Todd Anderson (Storm P) signs a 30-million-dollar contract with the New Jersey Nets after being named the number one NBA draft pick of the year, his mother (Jenifer Lewis) vows to prevent her son from forgetting his roots. Not used to balancing his new life with his old, Todd mistakenly invites family and friends from his old neighborhood to his multi-million-dollar house for a cookout on the same day of an important endorsement interview. Though his extravagant family cookouts were welcome at his old digs, Todd's stuffy new neighbors -- particularly the conservative Republican Judge Halsted Crowley (Danny Glover) -- are less than thrilled with the arrival of Todd's massive family. Complicating the situation further is the eccentric neighborhood security guard (Queen Latifah), who takes on the heady assignment of ensuring that none of the private community's rules are broken, as well as two thugs who, determined to get an autographed pair of sneakers, hold up the cookout at gunpoint. Directed by Lance Rivera, The Cookout also features performances from Ja Rule, Eve, Farrah Fawcett, and Jonathan Silverman.
News & Interviews for The Cookout
Critic Reviews for The Cookout
Audience Reviews for The Cookout
½
"C'mon everyone, let's head to the cookout!" Though this is what movie producers hoped fans would do, you should definitely not run to see this film. Though the movie has its moments, these moments are brief and crammed between long periods of pointless dribble. The worst part of the movie is the message it sends. The entire movie is one giant cliche with tired and used jokes that only perpetuate racial stereotypes. For example, the main character, Todd Anderson (Quran Pender), is a college basketball phenom who becomes the first pick in the NBA draft. Afterwards he goes on a ridiculous spending spree, purchasing an enormous house, a brand new Hummer, and plenty of bling for his gold-digging fiance played by Meagan Good. And what else would a newly-rich African American do but have a cookout with all his relatives, including his redneck cousins, conspiracy theorist and lawyer wanabe uncle, and his obese, pot smoking nephews. Even his neighbors, played by Farrah Fawcett and Danny Glover, add to the stereotypes with their reaction to Todd moving into the neighborhood. At times, this film is just plain embarrassing to watch. Queen Latifah, who provides most of the humor as the psychotic rent-a-cop with delusions of grandeur, is the only reason the movie is even at all bearable. If ever you wondered why we still stereotype in the 21st century, look no further than this film. This movie is the decrepit man's version of "Barbershop".
BOB LU
the only reason I gave this a 20% rater than a 10 or a 0 is because the star basketball player was supposed to be a Rutgers graduate =/
Mike Demko
Remi Logan
Super Reviewer
The Cookout Quotes
There are no approved quotes yet for this movie.
Discussion Forum
Discuss The Cookout on our Movie forum!